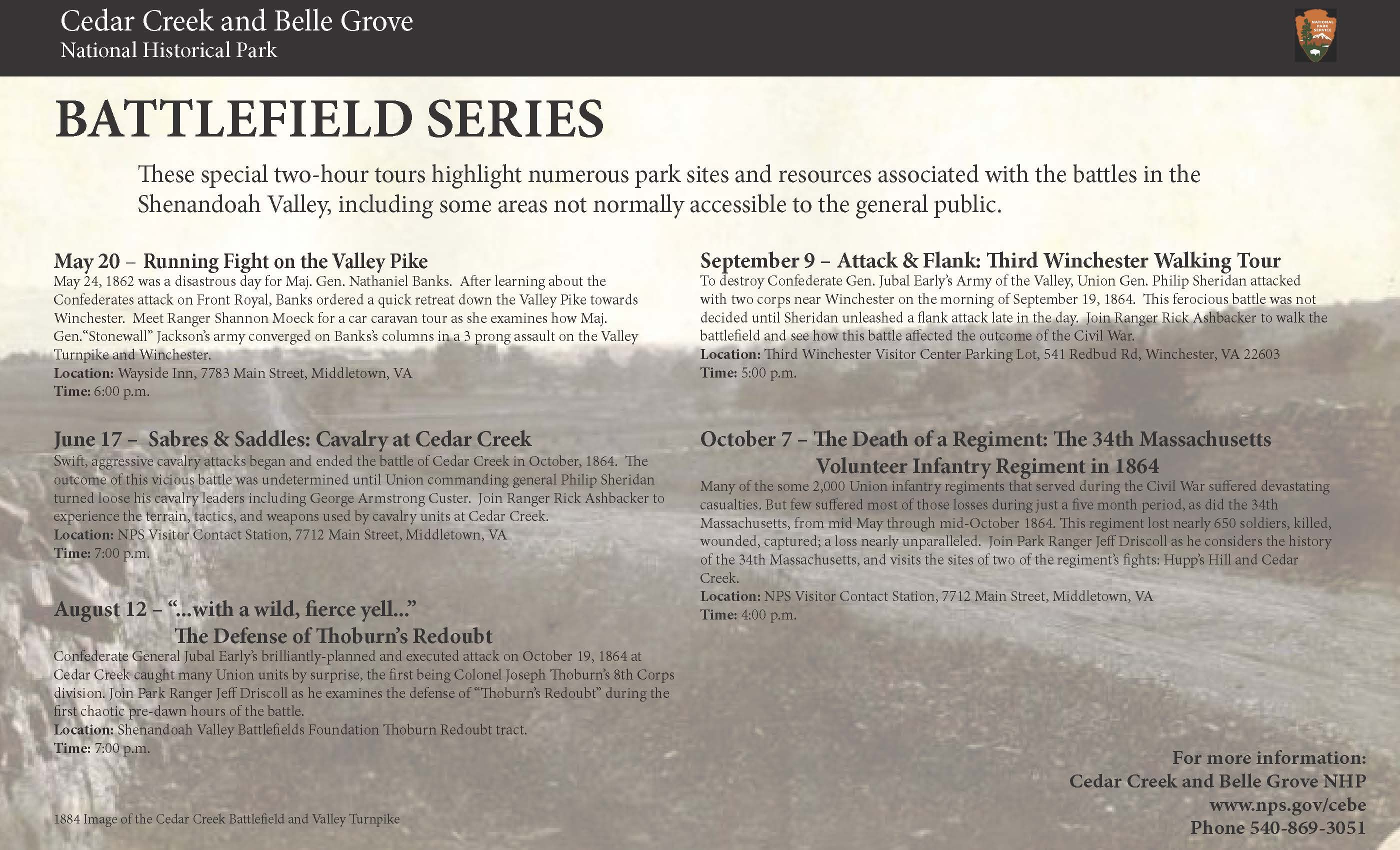 News Release Date:
May 11, 2017
National Park Service
News Release  
For Immediate Release – May 11, 2017
Contacts Name:  ERIC CAMPBELL (540) 868-0937    
Cedar Creek and Belle Grove National Historical Park Announces
Special "Battlefield Series" Programs
Middletown, VA
----- Cedar Creek and Belle Grove National Historical Park is pleased to announce a series of special "Battlefield Series" programs. These presentations highlight particular stories and events related to the Battle of Cedar Creek and other Civil War sites in the Shenandoah Valley.  "The Battlefield Series programs examine these events in more detail than our regular presentations," according to Eric Campbell, the park's chief of interpretation. "They also allow visitors an opportunity to see sites not normally open, or widely accessible, to the general public." Battlefield Series programs are offered on select Saturdays, starting May 20
th
. Each program is free and lasts between 90 minutes to two hours.  
May 20, 6:00 p.m.
Running Fight on the Valley Pike
May 24, 1862 was a disastrous day for Maj. Gen. Nathaniel Banks. After learning about the Confederate attack on Front Royal, Banks ordered a quick retreat down the Valley Pike towards Winchester. Meet Ranger Shannon Moeck for a car caravan tour as she examines how Maj. Gen."Stonewall" Jackson's army converged on Banks's columns in a 3 prong assault on the Valley Turnpike and Winchester. Meet at the Wayside Inn (7783 Main Street, Middletown, Virginia).   
June 17, 7:00 p.m.
Sabres & Saddles: Cavalry at Cedar Creek
Swift, aggressive cavalry attacks began and ended the battle of Cedar Creek in October, 1864. The outcome of this vicious battle was undetermined until Union commanding general Philip Sheridan turned loose his cavalry leaders including George Armstrong Custer. Join Ranger Rick Ashbacker to experience the terrain, tactics, and weapons used by cavalry units at Cedar Creek. Meet at the National Park Service Visitor Contact Station (7712 Main Street, Middletown, Virginia) for this car caravan tour.  
August 12, 7:00 p.m.
"...with a wild, fierce yell..."
The Defense of Thoburn's Redoubt
Confederate General Jubal Early's brilliantly-planned and executed attack on October 19, 1864 at Cedar Creek caught many Union units by surprise, the first being Col. Joseph Thoburn's 8th Corps division. Join Park Ranger Jeff Driscoll as he considers the defense of "Thoburn's Redoubt," that early morning in mid-October 1864. Meet at Thoburn's Redoubt, Bowman's Mill Road, Warren County  
September 9, 5:00 p.m.
Attack & Flank: Third Winchester Walking Tour
To destroy Confederate Gen. Jubal Early's Army of the Valley, Union Gen. Philip Sheridan attacked with two corps near Winchester on the morning of September 19, 1864. This ferocious battle was not decided until Sheridan unleashed a flank attack late in the day. Join Ranger Rick Ashbacker to walk the battlefield and see how this battle affected the outcome of the Civil War. Meet at the Third Winchester Visitor Center Parking Lot (541 Redbud Road, Winchester, Virginia).  
October 7, 4:00 p.m.
The Death of a Regiment: the 34th Massachusetts Volunteer Infantry Regiment in 1864
Many of the some 2,000 Union infantry regiments that served during the Civil War suffered devastating casualties. But few suffered most of those losses during just a five month-long period, as did the 34th Massachusetts, from mid-May through mid-October 1864. This regiment lost nearly 650 soldiers, killed, wounded, captured; a loss nearly unparalleled. Join Park Ranger Jeff Driscoll as he considers the history of the 34th Massachusetts, and visits the sites of two of the regiment's battles: Hupp's Hill and Cedar Creek. Meet at the National Park Service Visitor Contact Station (7712 Main Street, Middletown, Virginia).      
For more information, check the park website (
www.nps.gov/cebe
) or call (540) 869-3051.    
* * * * * * * * * * * * * *  
About Cedar Creek and Belle Grove National Historical Park:
Cedar Creek and Belle Grove commemorates a nationally significant Civil War landscape and antebellum plantation by sharing the story of Shenandoah Valley history from early settlement through the Civil War and beyond. The park is embedded within the Shenandoah Valley Battlefields National Historic District, a National Heritage Area.  
Created on December 19, 2002, the park encompasses approximately 3,700 acres across three counties and includes the key partner sites of Belle Grove Plantation (owned by the National Trust for Historic Preservation and managed by Belle Grove, Inc.), Cedar Creek Battlefield Foundation lands and Headquarters, Shenandoah Valley Battlefield Foundation lands, and a developing Shenandoah County Park. The partner sites continue to be owned and operated independently.