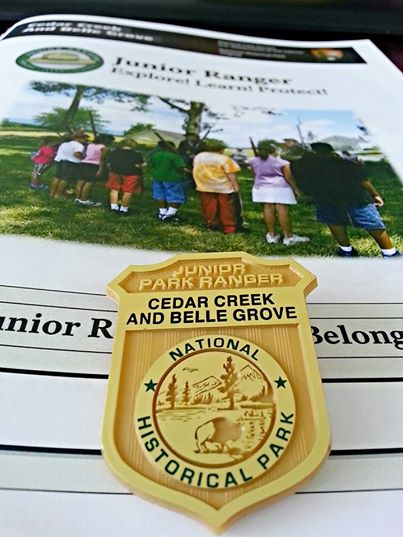 News Release Date:
April 26, 2014
Contact: Eric Campbell, 540-868-9176
National Park ServiceNews Release
For Immediate Release – April22, 2014
Contact's Name:ERIC CAMPBELL (540)868-0937
Cedar Creek and Belle Grove NationalHistorical Park Announces new Junior Ranger Program
Middletown, VA ----- In conjunction withNational Junior Ranger Day this Saturday, April 26th, Cedar Creekand Belle Grove National Historical Park is launching its new Junior RangerProgram.Tremendously popular throughoutthe 401 units of the National Park System, Junior Ranger programs are a greatway to get kids, and their families, interested and involved in their nationalparks.
"Junior Ranger programs aredesigned to include the whole family and involve fun and engaging hands-onactivities," says Park Ranger Eric Campbell."Our new program and activities highlight the many stories of thehistory of the Shenandoah Valley, along with the various resources andfacilities owned and managed by the park's partners."
The park's new Junior Rangerprogram is designed for children, ages 5-13, who can earn a Junior Ranger badgeand certificate by completing activities contained within the Junior Rangerbooklet.16 activities take youngvisitors through exhibits and self-guided walks and tours throughout thepark.Once kids complete the appropriateactivities for their age group, rangers and park volunteers will issue theirbadge and certificate.Booklets can bepicked up and returned at the park's Visitor Contact Station at 7712 MainStreet in Middletown.The Junior Rangerbooklet, ranger badge and certificate are free.
"We are so excited to expand ourprogramming for young visitors," noted Site Manager, Amy Bracewell."Participation in the Junior Ranger Program provides a fun and personalexperience for kids of all ages and creates lifelong memories and connectionsto the national parks."
This year also marks the 150thanniversary of the Battle of Cedar Creek, fought on October 19, 1864.The National Park Service, along with all ofits Key Partners, are planning a series of special events, programs andactivities through 2014 to commemorate this significant event in ShenandoahValley history.Information on theseevents, along with other information on the park, can be found on the parkwebsite (www.nps.gov/cebe)or by calling: (540) 869-3051.