The Battle of Cedar Creek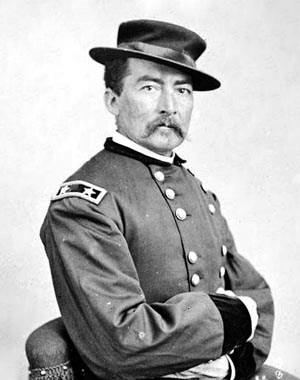 Battle of Cedar Creek, October 19, 1864
"A victory turned from disaster…"Maj. Gen. Philip Sheridan
Following his victories in September and October, 1864, Maj. Gen. Philip Sheridan and his 32,000 man Army of the Shenandoah conducted a systematic destruction of a 75 mile swath of the Shenandoah Valley. "The Burning" essentially laid waste to the "Breadbasket of the Confederacy." Confident the campaign was over, Sheridan camped his army north of Cedar Creek before traveling to Washington, D.C. to confer with higher authorities about future movements.
The poorly equipped and ill-fed Confederate Army of the Valley, led by Lt. Gen. Jubal Early, reduced to between 14,000-15,000 men, seemed to pose little threat. Desperate to achieve a victory, however, Early and his commanders devised a daring plan to attack Sheridan. Following an all-night march along the base of the Massanutten Mountain, including two river crossings, the Confederates rolled out of a dense fog in the pre-dawn hours of October 19. Catching many Northern soldiers sleeping, the Confederate onslaught overran the Union 8th Corps and then 19th Corps, and drove past the Belle Grove Plantation. The Union 6th Corps, given more warning, was able to offer stiffer resistance (including a determined stand amongst the stones of the Middletown cemetery), but by 10:30 a.m. the stunned Union army was in full retreat.
Feeling his had achieved a spectacular victory, Early sought to secure their captured spoils (including 24 Union cannon and over a 1,000 prisoners), while his soldiers solidified their final line just north of Middletown. Exhaustion, along with widespread looting of the captured Union camps, however, reduced the strength of the already outnumbered Confederate army.
Sheridan, riding from Winchester that morning, was completely unaware of the disaster that had befallen his army. Upon hearing the growing sounds of battle, however, he quickened his pace and rode hard to the field. "Sheridan's Ride" (later celebrated in art and poetry) forever cemented his status in American history. Rallying his defeated forces, he then ordered a counterattack at 4:00 p.m. which swept the Confederates from the field, recaptured all of the lost artillery (plus 24 Confederate cannons) and over 1,200 prisoners. Total casualties numbered approximately 8,600 (5,700 Union and 2,900 Confederate), making it the second bloodiest battle in the Shenandoah Valley.
Early's army was shattered, and with it further Confederate resistance in the Valley ended. Occurring just three weeks before the presidential election, Cedar Creek gave sagging Northern morale a much needed boost and helped carry Abraham Lincoln to a landslide victory at the polls.
Last updated: February 26, 2015