Slavery in the Shenandoah Valley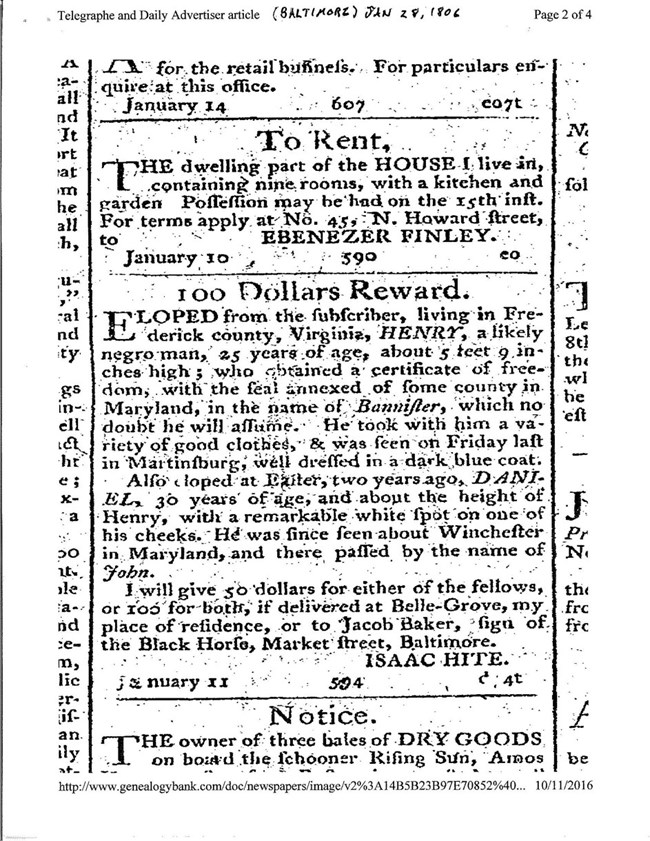 Enslavment in the Shenandoah Valley

Belle Grove is doing in depth research on the enslaved community at Belle Grove. Visit their website to learn more.

This image is from an advertisement in the Telegraphe and Daily Advertiser in Baltimore, date January 11, 1806. It reads:

"100 Dollars Reward. Eloped from the subscriber, lvining in Frederick County, Virginia, Henry, a likely negro man, 25 years of age, about 5 feet 9 inches high; who obtained a certificate of freedom, with the seal annexed of some county in Maryland, in the name of Bannister, which no doubt he will assume. He took with him a variety of good clothes, & was seen on Friday last in Martinsburg, well dressed in a dark blue coat.
Also, eloped at ???, two years ago, DANIEL, 30 years of age, and about the height of Henry, with a remarkable white spot on of his cheeks. He was since seen about Winchester in Maryland, and there passed by the name of John.
I will give 50 dollars for either of the fellows, or 100 for both, if delivered at Belle-Grove, my place of residence, or to Jacob Baker, sign of the Black Horse, Market Street, Baltimore.
Isaac Hite,
January 11."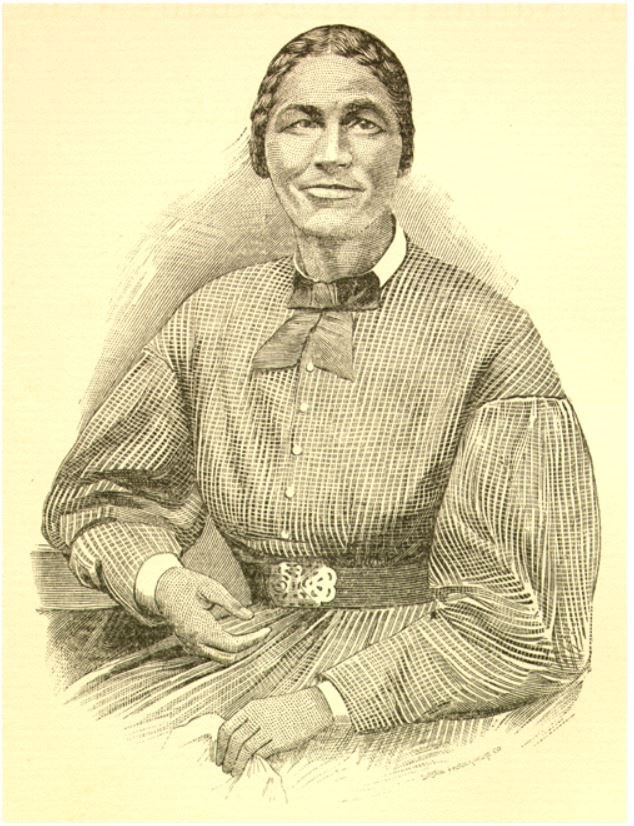 National Park Service Resources on African American History

The National Park Service celebrates African American Heritage throughout the year. Visit a multitude of park sites dedicated to African American history and culture. View Museum exhibits, go on a travel itinerary, or read in-depth histories and interviews of famous African Americans and how they shaped the United States. Check out these resources below to learn more about the African American Experience.
Cedar Creek and Belle Grove National Historical Park
NPS Studies & Reports
Broomall JJ. 2020. 'The Stars Fought from Heaven': Race and Slavery in the Shenandoah Valley from Early Settlement to Jim Crow. National Park Service (PDF file)

Shenandoah Valley Black History Resources:
Adams, John Quincy, Narrative of the Life of John Quincy Adams, When in Slavery, and Now as a Freeman. 1872, from https://docsouth.unc.edu/neh/adams/summary.html

Dew, Charles B., Bond of Iron: Master and Slave at Buffalo Forge. W. W. Norton & Company; Revised edition,1995.

Noyalas, Jonathan A., et al. Slavery and Freedom in the Shenandoah Valley during the Civil War Era. University Press of Florida, 2021.

Simmons, J. Susanne And Nancy T. Sorrells. Slave Hire and the Development of Slavery in Augusta County, Virginia,. In Koons, Kenneth E., Hofstra, Warren R (Ed.), After the Backcountry: Rural Life in the Great Valley of Virginia, 1800–1900. University of Tennessee Press, 2000.

Veney, B. Bethany Veney The Narrative of Bethany Veney: A Slave Woman. Summary of the narrative

More resources:
Harper's Ferry National Historical Park
Richmond National Battlefield Park
Petersburg National Battlefield Park:
From Natchez National Historical Park:
From Colonial National Historical Park:
From Arlington House, The Robert E. Lee Memorial:
Hampton National Historic Site:
From Chickamauga & Chattanooga National Military Park:
Appomattox Court House National Historical Park:
Andersonville National Historic Site
Fredericksburg and Spotsylvania National Military Park
Park blog called Mysteries and Conundrums (

npsfrsp.wordpress.com

).

Look in the categories of "Slavery and

Slave Places," "Contrabands," and "USCT's" for African American History.
Frederick Douglass House National Historic Site
Harriet Tubman Underground Railroad National Historical Park
The Underground Railroad Network to Freedom
Charles Young Buffalo Soldiers National Monument
To learn more about the sites and resources listed below, go to https://www.nps.gov/parkhistory/categrs/etnc1.htm:
Booker T. Washington National Monument

Boston African American National Historic Site

Brown v. Board of Education National Historic Site

Cane River Creole National Historical Park

Colonial National Historical Park

Dayton Aviation Heritage National Historical Park

Fort Davis National Historic Site

Fort Scott National Historic Site

Frederick Douglass National Historic Site

George Washington Carver National Monument

Hampton National Historic Site

Harpers Ferry National Historical Park

Jean Lafitte National Historical Park and Preserve

Lincoln Memorial

Little Rock Central High School

Maggie L. Walker National Historic Site

Martin Luther King, Jr., National Historic Site

Mary McLeod Bethune Council House National Historic Site

New Orleans Jazz National Historical Park

Nicodemus National Historic Site

Perry's Victory and International Peace Memorial

Petersburg National Battlefield

Port Chicago Naval Magazine National Memorial

Richmond National Battlefield Park

Selma to Montgomery National Historic Trail

Timucuan Ecological and Historic Preserve

Tuskegee Institute National Historic Site

Virgin Islands National Park
Related Links:
African-American History of War of 1812 Sites

A History Remembered: Why were Buffalo Soldiers in Yosemite?

Aboard the Underground Railroad: A National Register Travel Itinerary

African American Archeology & History

African American History and Culture

African American History Lesson Plans

African American History Month

African American Sailors in the Civil War Union Navy

American Slave Narratives

American Visionaries: Frederick Douglass

Bibliographic Essay on the African American West

Booker T. Washington Papers

Buffalo Soldiers in Guadalupe Mountains National Park

Chattel Slavery at Hampton/Northampton, Baltimore County

Civil War Soldiers and Sailors System/Colored Troops

Clues to African American Life at Manassas National Battlefield Park

Connections: African-American History and CRM

Encountering the Cultural Diversity of the Lower Mississippi Delta Region

Frankly, Scarlett, We Do give a Damn: The Making of a New National Park (pdf)

Fugitive Slave Traffic and the Maritime World of New Bedford (pdf)

Interpreting Slavery and Civil Rights at Fort Sumter National Monuement (pdf)

In Those Days: Africian American Life Near the Savannah River

North American Slave Narratives at the University of North Carolina

Racial Desegregation in Public Education in the U.S.

Slavery and Resistance

Speeches of Dr. Martin Luther King

Teacher's Guide: Dr. Martin Luther King

The Legacy of the Port Chicago Disaster (pdf)

The Network to Freedom

The Preservation Effort, 1990-2003: Brown v. Board of Education Historic Site

Our Shared History

Scholarship on Southern Farms and Plantations

Legends of Tuskegee

Teaching With Historic Places: Africian American History Lesson Plan

We Shall Overcome: Historic Places of the Civil Rights Movement
Online Books:
Africans and African Americans on Jamestown Island

1619-1803 (pdf)

American Slave Narratives (WPA)

Of Mules and Men

The Souls of Black Folk

Uncle Tom's Cabin

Up From Slavery
Last updated: April 24, 2022