Showdown in the Shenandoah Valley: 1864 Valley Campaign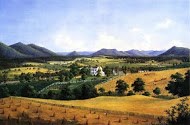 The Shenandoah Valley was very important to the Confederates,because it was the principal storehouse…for feeding their armies…. It was well known that they would make a desperate struggle to maintain it. It had been the source of a great deal of trouble to us…. I determined to put a stop to this. I started Sheridan at once for that field of operation...
Thus Ulysses Grant put in motion the 1864 Shenandoah Valley Campaign, placing Maj. Gen. Philip Sheridan in command, with directions "to put himself south of the enemy and follow him to the death…."Just over two months later, Sheridan had delivered a series of stinging defeats,during the largest and bloodiest battles fought in the Valley, which wrested away Confederate control of that vital region and laid much of it in ashes,forever removing its ability to sustain Confederate armies. Although smaller and less costly than another more famous campaigns, Sheridan's operations in the Valley had tremendous military and political impacts that fall.
With his appointment to the Valley,Sheridan was heavily influenced by the three principal directives he received from Grant; defeat Early, destroy the Valley's resources and, above all, avoided defeat. Thus, throughout the avoided defeat August and early September Sheridan was ruled by caution, maneuvering and skirmishing throughout the lower Valley, but avoiding major battle. Sheridan also took time to organize and mold his new Army of the Shenandoah, approximately 40,000 strong. This lull gave Lt. Gen. Jubal Early,commanding the Confederate Army of the Valley, a false sense of confidence; a belief that Sheridan was overly cautious. Thus Early continued to disperse his smaller army (approximately 15,000 strong) in order to maintain his threats along the Potomac front and the B & O railroad.
Growing impatient with this lack of progress, Grant traveled to the Valley on September 15of progress, in order to push Sheridan into action. Their meeting was short, for Sheridan recently received news through a civilian (Unionist Rebecca Wright of Winchester) that Early had just been weakened by the removal of an infantry division and other troops. Approving Sheridan's offensive plan, Grant simply told him: "Go in!"
Third Winchester
Early was concentrated near Winchester, although he had unwisely divided his forces, sending some near Winchester Martinsburg and the Potomac. Learning of this, Sheridan decided to strike directly west from Berryville hoping to overwhelm Early before he could concentrate his scattered forces. One flaw to this plan was that it funneled the bulk of Union infantry through a ravine known as the Berryville Canyon.
Union cavalry splashed across the Oopequon Creek before dawn on September 19th, initiating the Third Battle of Winchester, the largest and bloodiest engagement fought in the Shenandoah Valley. Recognizing his error, Early scrambled to concentrate his scattered forces and form them on high ground east of Winchester.
Sheridan's plan immediately miscarried as his baggage trains created a "traffic jam" the length of the Berryville Canyon, which slowed the Union advance to a crawl. It was 11:00 a.m. before Sheridan's columns emerged from the Canyon and formed for an attack. Using two of his three corps (the 6th and 19th) Sheridan began the advance around 11:40 a.m. and his lines soon passed through the First Woods and across the Middle Field. As they approached the Second Woods, a gap began developed in the Union line.
Desperate to slow the Union advance, Maj. Gen. John Gordon, one of Early's division commanders, ordered a counterattack, which penetrated this gap and splintered the Union line. Sheridan rode into the confused masses and personally rallied his troops and reformed their lines. The battle settled into a static slugfest,with the opposing lines exchanging deadly volleys at close range. One Union veteran later wrote, "The roar of battle, as the two lines fairly met, sounding in a thunderous burst of volleys,pealed up …and smoke and flame streamed out in a long line, as though the whole forest had been suddenly ignited."
While Early had temporarily staved off destruction, Sheridan still had troops not yet engaged, including Maj. Gen. George Crook's 8th Corps. At3:00 pm., Sheridan ordered Crook to turn the Confederate left. Crook's forces straddled Red Bud Run, a meandering steep-banked stream, during their march and launched a devastating attack around 4:00 p.m.
Early gave ground and pulled his line back into the shape of an inverted across the, with the short arm stretched across the Valley Pike and faced north. Near5:00 p.m. Sheridan ordered his final forces into the attack; two divisions of cavalry who galloped in from the north.This enormous force of thundering hooves and flashing sabers was imposing. A New York veteran later wrote, "Looking in the direction of the setting sun, our men saw the most impressive sight…thousand[s] [of] sabers glistened…. The cavalry poured upon and rushed through a great heard of stampeding rebels."
Despite the valiant resistance of the Confederate infantry, this final onslaught was simply too much. Early's lines cracked, fell back, rallied and then broke again. As darkness fell,Sheridan drove Early's army off the field and sent it "whirling through Winchester." The Confederates were in full retreat and Sheridan had his first major victory of the campaign. The cost, however, was heavy. Total casualties exceeded 8,600(approximately 5,000 Union and 3,600 Confederate). Sheridan realized, however, the campaign was far from over.
Fisher's Hill
Early fell back that evening to Fisher's Hill, south of Strasburg. This range of hills stretched across the Valley floor, from the Massanutten Mountain into Little North Mountain. "This was the only position in the whole Valley," Early explained later, "where a defensive line could be taken…" Although his losses at Winchester had reduced his strength to around 10,000, Early hoped the natural strength of Fisher's Hill would deter Sheridan from attacking. It was a false hope.
Sheridan arrived at the base of the hill on the evening of September 20th. Recognizing that a frontal assault would"entail unnecessary destruction of life, and…be of doubtful result," Sheridan met with his corps commanders to develop another plan. Crook suggested a flanking maneuver against the Confederate left, similar to the one he had executed at Winchester. Sheridan approved the plan and the 8thCorps began their march the evening of September 21st.
Every possible effort was taken to conceal Crook's march and the final stages, which took place on the afternoon of September 22nd, included ascending the wooded slopes of Little North Mountain. This placed Crook squarely opposite Early's left. Around 4:00 p.m. Crook ordered his advance and the 5,500 men of the 8th Corps rolled down the mountainside and directly into the Confederate left and rear. It crashed into the main Confederate line,according to one Union soldier, "sweeping down their works like a western cyclone…."
Early attempted to redeploy his line to face this new threat, but it was too late. Once flanked, Early reported, "panic seized[the men]…and without being defeated they broke, many of them fleeing shamefully." Early quickly ordered a withdrawal and as darkness descended his army was in full retreat southwestward toward Harrisonburg and beyond. For the second time in three days Early had been put to flight. That, along with the 1,200 casualties he had suffered (including more than 1,000 captured), caused Confederate morale to plummet.
Sheridan's hopes of following up this victory with the complete destruction of Early's army went unfulfilled. By September 25th Early had withdrawn all the way to Brown's Gap in the Blue Ridge Mountain, southeast of Harrisonburg. Union troops reached that town on the following day and encamped around it. Sheridan now believed the campaign was all but over. Having successfully retaken the Valley, he decided to carry out the second of Grant's directives; systematically destroy the Valley's rich agriculture resources. This episode would go down in history as "The Burning" and would turn large sections of the Valley into a vast waste (see the accompanying article for a detailed description).
Compounding the misery of Early's men was not only their inability to stop the destruction; but that many were natives of the Valley, and thus literally watched their own farms go up on flames. Nevertheless, Southern cavalry made constant harassing raids on the Union rear. Growing sick of this skirmishing Sheridan angrily ordered his cavalry chief, Brig. Gen. Alfred Torbert on October 8thto either whip the Confederate cavalry or "get whipped themselves."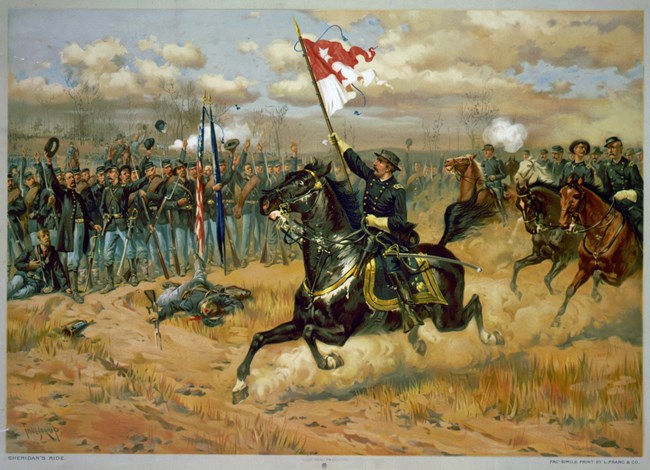 Cedar Creek
Confident the campaign was now over Sheridan camped his army, 32,000 strong, on the bluffs along the north bank of Cedar Creek.Early's poorly equipped and ill-fed army had been reduced to approximately 12,000 men and seemed to pose little threat. Thus Sheridan traveled to Washington, D.C. on October 15th to confer with higher authorities about future movements, feeling secure that he would return before anything significant occurred.
Little did Sheridan realize that on October 13th Early had received 3,000reinforcements from Gen. Lee, along with instructions to launch an offensive to regain the Valley. While the natural strength of the Union position ruled out a frontal assault, Gen. Gordon devised an unexpected alternative. After toiling up the steep slopes of Massanutten Mountain on October 17th to Signal Knob, where the entire Union army was visible, he returned with a bold plan. Despite the long odds, Early approved and put the plan into motion on the night of October 18th. It was one of the riskiest and most audacious assaults attempted during the entire Civil War.Early split his smaller army into three columns in order to place the bulk of his force against the Union left,held by the 8th Corps. It would take perfect coordination and absolute surprise to have any chance of success.
Following an all-night march along the base of the Massanutten Mountain, including two river crossings, the Confederates rolled out of a dense fog in the pre-dawn hours of October 19their tents. Most Northern soldiers were still in their tents and the few who managed to form a line were quickly overwhelmed. Within minutes the 8th Corps was routed and fleeing.
The Union 19th Corps, commanded by Gen. William Emory, was struck next both from its left and front. Although given more warning, Emory's lines were soon forced back and Belle Grove fell to the Southern advance around 7:00 a.m.That left only the Union 6th Corps, which had set up its line long the banks of Meadow Brook, to face the Confederate advance.
Fighting stubbornly, the Northern line continued to withdrawal. The only sustained stand offered by the Union army that morning was made by Brig. Gen. George Getty's 6th Corps division located on a prominent hill which overlooked Middletown and where the town cemetery was located. For 90minutes (8:00 to 9:30 a.m.) Getty repulsed three attacks and withstood a 30minute artillery bombardment. Finally,faced with overwhelming odds and nearly cut off, Getty withdrew. By 10:30 a.m. the Army of the Shenandoah was bloodied, battered and on the verge of a demoralizing defeat. Cedar Creek appeared to be a stunning Confederate victory.
Early assumed the Union army would conduct a full retreat and thus ordered his lines to halt just north of Middletown.Believing his own men were too exhausted, and his lines were weakened by the loss of men who were plundering the Union camps, Early felt the best he could do was "hold what had been gained" (including over 1,000 prisoners and 24cannon). Despite this success, Gordon urged his commander to continue the advance.Frustrated, he later called this delay the "fatal halt." Early's plan was to secure his captured spoils and hold on until darkness could cover his withdrawal. During this debate Early, Gordon and the rest of the Confederate army heard cheering from the Union lines. Although they did not know it, this celebration marked the arrival of Sheridan, and with him, a turning point in the battle.
Returning that morning, Sheridan had no idea of the disaster that had befallen his army.Soon, however, the sounds of battle reached him, followed by fleeing Union soldiers spreading rumors of defeat.Riding hard, he rallied soldiers along the way, and arrived on the field around 10:30 a.m. "Sheridan's Ride," later celebrated in art and poetry,forever cemented his status in American history. Sheridan immediately rejected all suggestions to order a full-scale retreat, and instead began to plan for a counterattack.
Preparations took several hours, but by 4:00 p.m. Sheridan ordered his counterattack to begin. Hoping to quickly overwhelm the smaller Confederate army, Sheridan instead saw his advance met determined resistance. The fate of the battle hung in the balance before the Confederate left was turned. As this point, Union cavalry, led by Brig.Gen. George Cuter struck hard. The Confederate line unraveled and the retreat quickly turned into a route.
By 5:00 p.m. the Confederate Army of the Valley ceased to exist. Losses included over 1,200 prisoners and 48 cannon, including all 24 of the Union cannon they had captured that morning. Total casualties numbered approximately 8,600 (5,700 Union and2,900 Confederate), making it the second bloodiest battle in the Valley.
Cedar Creek was a momentous Union victory and marked the end of Sheridan's overwhelmingly successful campaign, which crushed further Confederate resistance in the Shenandoah Valley, and occurred on the eve of the presidential election. For the Confederacy, the campaign was a humiliating disaster, and one of a string of setbacks that fall and winter which ultimately lead to final defeat less than six months later.
Last updated: February 26, 2015