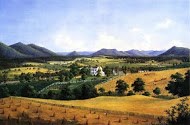 The Shenandoah Valley was very important to the Confederates,because it was the principal storehouse…for feeding their armies…. It was well known that they would make a desperate struggle to maintain it. It had been the source of a great deal of trouble to us…. I determined to put a stop to this. I started Sheridan at once for that field of operation...
Thus Ulysses Grant put in motion the 1864 Shenandoah Valley Campaign, placing Maj. Gen. Philip Sheridan in command, with directions "to put himself south of the enemy and follow him to the death…."Just over two months later, Sheridan had delivered a series of stinging defeats,during the largest and bloodiest battles fought in the Valley, which wrested away Confederate control of that vital region and laid much of it in ashes,forever removing its ability to sustain Confederate armies. Although smaller and less costly than another more famous campaigns, Sheridan's operations in the Valley had tremendous military and political impacts that fall.
With his appointment to the Valley,Sheridan was heavily influenced by the three principal directives he received from Grant; defeat Early, destroy the Valley's resources and, above all, avoided defeat. Thus, throughout the avoided defeat August and early September Sheridan was ruled by caution, maneuvering and skirmishing throughout the lower Valley, but avoiding major battle. Sheridan also took time to organize and mold his new Army of the Shenandoah, approximately 40,000 strong. This lull gave Lt. Gen. Jubal Early,commanding the Confederate Army of the Valley, a false sense of confidence; a belief that Sheridan was overly cautious. Thus Early continued to disperse his smaller army (approximately 15,000 strong) in order to maintain his threats along the Potomac front and the B & O railroad.
Growing impatient with this lack of progress, Grant traveled to the Valley on September 15of progress, in order to push Sheridan into action. Their meeting was short, for Sheridan recently received news through a civilian (Unionist Rebecca Wright of Winchester) that Early had just been weakened by the removal of an infantry division and other troops. Approving Sheridan's offensive plan, Grant simply told him: "Go in!"