Battle of Front Royal - May 23, 1862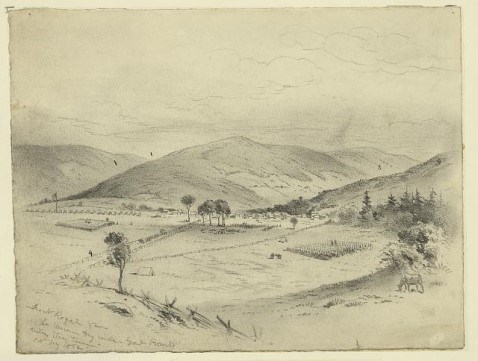 Following his victory at McDowell on May 8, 1862, Confederate General Stonewall Jackson pursued his defeated foe, Union General Robert Milroy, towards Franklin, Virginia (now West Virginia), then retraced his steps back to McDowell, and finally to Staunton in the Shenandoah Valley. By this time Confederate General Richard Ewell's division, over 8,000 strong, had been biding its time at Swift Run Gap in the Blue Ridge Mountains, and Union General Nathaniel Bank's force, having left Harrisonburg on May 9th, had started its withdrawal down the Valley, reaching Strasburg on May 13th.
On May 18th Ewell met with Jackson at Mount Solon, which is southwest of Harrisonburg, to discuss plans for dealing with Banks's Federals. The first problem they faced was Ewell's orders from their superior, General Joseph Johnston, directing Ewell to leave and Valley and bring his division to Richmond. After some back and forth communication, however – and with help from military advisor General Robert E. Lee – Ewell was allowed to stay with Jackson, with Johnston's orders now reading, in part: "The objective you have to accomplish is the prevention of the junction of General Banks's troops with those of General McDowell," Irwin McDowell was waiting in Fredericksburg with perhaps 30,000 troops, and scheduled to march south in support of Union General George B. McClellan's campaign against Richmond.
Initially Jackson and Ewell planned to unite at New Market – together their forces would number about 17,000 – then march north on the Valley Pike, striking Banks at Strasburg. Reaching New Market on May 21, 1862, however, Jackson learned that only a small Union garrison held the town of Front Royal, about fifteen miles east of Strasburg, so Jackson determined to cross Massanutten Mountain over the New Market Gap, link up with Ewell in Page County, and from there, march north and overwhelm the 1,100 or so Yankees at Front Royal.

Leaving part of Colonel Turner Ashby's 7th Virginia Cavalry to press north on the Valley Pike, leading Banks to think the main thrust would come from that direction, Jackson led his command over Massanutten. On May 22nd he linked up with Ewell, and together they pushed north. By striking at Front Royal, Jackson would be placing his forces between Banks and McDowell, thus accomplishing his objective.
Meanwhile, Banks could count on no more than 8,000 men in his command: 6,100 infantry and cavalry with sixteen artillery pieces at Strasburg; the 1,100-man garrison at Front Royal; and a small outpost at Buckton Station, about midway between the two towns.
On May 23rd, as Jackson's force approached Front Royal from the south, Confederate cavalry under Colonels Ashby and Thomas Flournoy, which had led the advance, swung west, and crossed the South Fork of the Shenandoah River. Their mission was to cut communication between Strasburg and Front Royal.
Meanwhile, from Union pickets captured south of Front Royal, Jackson learned that most of the Federal garrison there belonged to the 1st Maryland Infantry. Knowing that, he called on his own 1st Maryland to lead the attack, to be supported by part of General Richard Taylor's Louisiana Brigade. This would be the only time in the Civil War when regiments from the same state - and with the same regimental designation - would face each other in battle.
A little before 2 p.m. on May 23rd, as the advance began and the firing started, a young woman came "…running like mad down from the hill on our right…gesticulating wildly to us." Stopping and gasping for breath,, this woman – Belle Boyd (see sidebar) – spoke briefly to two of Jackson's staff officers, Sandie Pendleton and Kyd Douglas. As Douglas remembered it, she said: "Go back quick and tell him [Jackson] that the Yankee force is very small…Tell him to charge right down, and he will catch them all." Douglas and Pendleton thanked her, although the information she brought Jackson already was aware of, and she hurried off, back into town.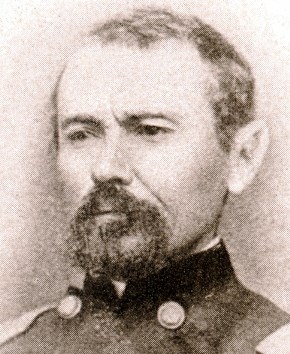 The Confederate attack caught the Union garrison, commanded by Colonel John R. Kenly, by surprise. Although Kenly's 1st Maryland Infantry scattered, he was able to rally them on Camp Hill, also called Richardson's Hill, about two miles north of the town. There they held up for several hours, until Taylor's Louisianans threatened his left flank. Kenly then ordered a retreat across the bridges over the South and North Forks of the Shenandoah River, making a second stand on Guard Hill. There he re-established a defensive line, anchored by two artillery pieces commanded by Lieutenant Charles Atwell.
Once on Guard Hill, Kenly sent some of his men back to burn the bridges, but they were only partially successful, and Confederate soldiers were able to douse the flames. Around 6 p.m. Kenly had to fall back again when Flournoy's Virginia cavalry started crossing the North Fork. This time the Federals retreated some two miles north to Cedarville, but when Flournoy's troopers pursued, hitting Kenly's Marylanders on both flanks, the Federal soldiers panicked, and Kenly's line collapsed. As a result, over 690 Union soldiers were captured, with another 82 killed or wounded. Confederate casualties numbered merely 36.
Jackson's victory at Front Royal placed Banks in a difficult position. Still faced with Confederates in his front – a force he thought was much larger than it actually was – and a strong enemy presence to the east, he was unsure where the next blow would fall. But one thing was certain – he had to get out of Strasburg, and that evening the retreat began – to Winchester.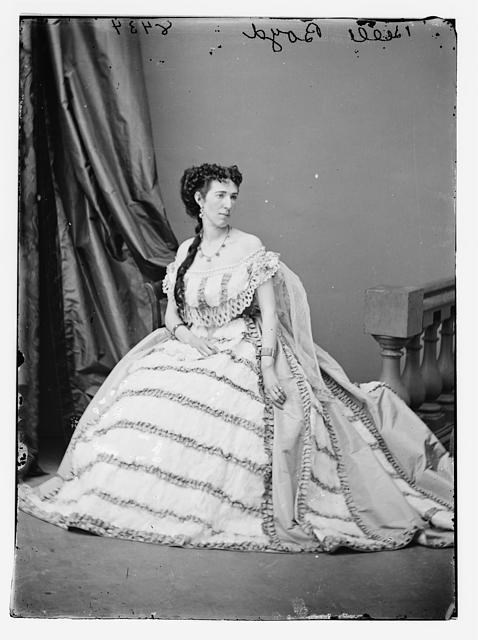 Belle Boyd
Isabella Maria Boyd, better known as Belle Boyd – or the "Siren in the Shenandoah" - was born on May 9, 1844 in Martinsburg, Virginia, now West Virginia. In 1856, at the age of twelve, she was sent to Baltimore's Mount Washington Female College, a girls' finishing school, graduating four years later.
Shortly after the Civil War began, Union troops entered Martinsburg, some taking exception to the Confederate flag the Boyds flew from their house. During a confrontation with one soldier, a Yankee who "addressed my mother and myself in language as offensive as it is possible to conceive," Belle took a pistol and mortally wounded the man. Although she was not arrested for that act, Boyd was watched carefully for some time thereafter.
During the Civil War Belle Boyd used her feminine appeal to obtain information from Union officers. "She played the game of flirt and lowered the dignity of her sex," one acquaintance wrote of Boyd. "She was a young woman of some personal beauty and a skilled rider of spirited horses. Nor was she wanting in energy, dash and courage. But she had none of the genius, inspiration and religious fervor of the true heroine…Her own sex in the South repudiated her, and the true manhood of both armies was suspicious of her character." Another acquaintance of Boyd's felt sorry for the man who would marry her, "for of all the wild, reckless, fast girls she beats all."
Belle Boyd was arrested a number of times during the war, once being taken to Old Capitol Prison in Washington, D.C. Later in the war, she tried to sail to England, but the ship she was on was stopped by the Union blockade. She ended up falling in love with the captain of that U.S. ship, they married, and together they made it to England. Boyd married twice more, and following the death of her third husband, she traveled around the U.S., giving dramatic lectures of her Civil War adventures. She also published a heavily embellished account of those exploits titled, Belle Boyd in Camp and Prison.
On June 11, 1900, while in Wisconsin, Belle Boyd died of a heart attack; she was only 56 years old.
Last updated: August 22, 2020