Age of Grain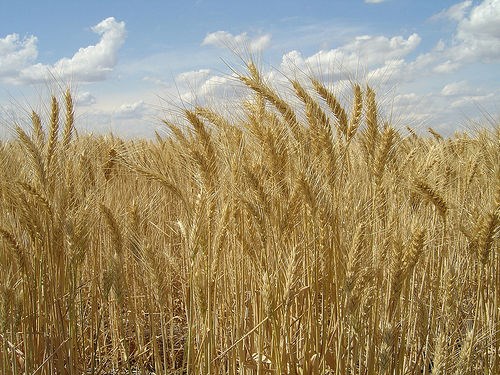 The Age of Grain
The original settlers practiced a highly diversified form of agriculture on a small scale versus other more southern areas that focused on a single cash crop. Valley farmers raised a variety of crops and domesticated farm animals for home use as well as for local sale or barter. Corn, numerous cereal grains, various grasses for summer and winter grazing for livestock, flax for home production of linen were some of the crops raised.
Horses provided power and transportation; cattle provided meat, milk, cheese and butter; swine was a main staple for protein; and sheep for their wool and another source of protein.
Initially hemp was the primary crop grown in the Valley but it declined dramatically after the Revolution.
Wheat
The Valley farmers learned that wheat could easily be grown in the Shenandoah Valley. It is a crop produced by the fields rich with limestone deposits.
After the French and Indian War the area economic growth slowed but not as much as other parts of VA due to the economic base provided by grain and flour production.
By the 1790's the valley "had become one of the most important wheat- and flour-producing regions in the entire south. By 1810 the Valley was considered the leading wheat producing region in the entire south. In 1820, Frederick County became the number one flour producer in the state. In 1850 96% of all farmers in the Valley produced wheat.
The wheat was processed to flour to become a commodity. This allowed for the successful development of mills. Mills were powered by water and the Valley is rich with creeks and their tributaries. Specifically Cedar Creek and Opequon Creek locally. The three mills in the Middletown area were: Hottle Mill (part of the Hite complex); Stickley Mill (burned in the burning, remains still standing); Bowman's Mill (where Kershaw's troops crossed)
Grinding grains for the production of flour and meal was their main purpose. Millers in the Valley utilized their mills to seize other capitalistic opportunities. Use of mills included, sawing logs, grinding plaster, processing wool, distilleries, and hog raising.
The end of the 18th century saw the Valley landscape rich in towns, while large, dispersed, and economically autonomous plantations kept the tobacco growing regions of VA poor in nucleated commercial centers. The exchanges generated by grain farmers with money to spend, by merchants with large stocks of imported, manufactured goods, and by a good road to link interior trade to the flows of Atlantic commerce ensured that towns appeared along the Valley Road.
The Road to Division- Early 19th Century Shenandoah Valley
By the conclusion of the colonial period, the Valley Road had helped create a culture area and landscape in western Virginia strikingly different from the established patterns of Old Virginia.Freehold farms, intensive grain livestock agriculture, ethnic diversity and religious pluralism all contrasted sharply with the culture of tobacco production, plantation life, social stratification, Anglicanism, and slavery that defined the new commonwealth's long settled tidewater regions.
Last updated: June 5, 2013