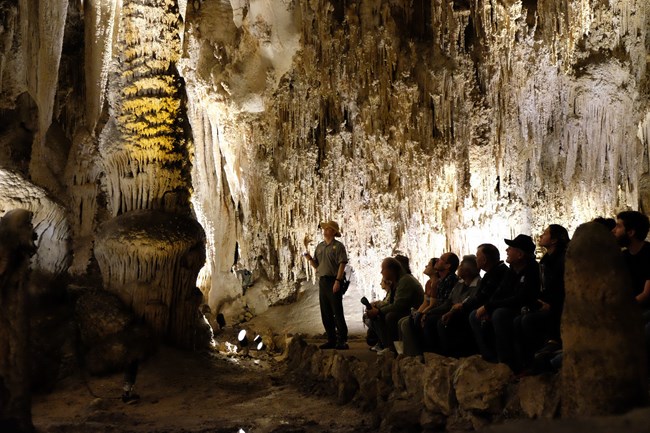 Whether it's walking among beautiful cave formations in King's Palace or challenging yourself in Lower Cave or Slaughter Canyon Cave, taking a ranger-guided cave tour can be an exciting experience. Carlsbad Caverns National Park offers numerous ranger-guided cave tours into areas other than exploring on your own along the Big Room and Natural Entrance trails. Find out which tour is right for you by clicking on the tour name below.

Availability on all ranger-guided tours is limited. It's recommended that you plan ahead and reserve early. Make tour reservations by calling 877-444-6777 or visiting www.recreation.gov.

All tour tickets must be picked up at the visitor center at least 30 minutes prior to the tour. A cavern entrance ticket must also be purchased.

If you make a reservation for the Slaughter Canyon Cave Tour, you must caravan in your own vehicle to the trailhead after meeting at the visitor center.

For Lower Cave and Slaughter Canyon Cave tours, sturdy, lace-up hiking boots that cover the ankle are required. Boots with zippers will not be permitted on the tour. Boots must have good aggressive tread. No sandals, flip flops, tennis shoes, or similar. You will not be allowed to participate in the tour if you are not wearing proper footwear—no exceptions. Click for more details.

Gloves, knee and elbow pads will be provided if crawling is required on a tour. We provide required equipment to minimize the risk of transferring White-nose Syndrome from another cave.

NOTE: Children younger than 4 years are not permitted on any ranger-guided cave tours. Additional age limits differ for each tour.
Tour Schedule
(click on the tour name for more information)

September 4–November 21
King's Palace: 10 am (Daily)
Left Hand Tunnel: 1 pm (Daily)
Lower Cave: 8:30 am (Tuesdays, Thursdays, Saturdays, and Sundays)
Slaughter Canyon Cave: 8:30 am (Mondays, Wednesdays, and Fridays)

November 22 (Thanksgiving Day)
Visitor center and cavern closed.

November 23–25
King's Palace: 10 am, 11:30 am and 1:30 pm (Daily)
Left Hand Tunnel: 1 pm (Daily)
Lower Cave: 8:30 am (Tuesdays, Thursdays, Saturdays, and Sundays)
Slaughter Canyon Cave: 8:30 am (Mondays, Wednesdays, and Fridays)


November 26–December 21
King's Palace: 10 am (Daily)
Left Hand Tunnel: 1 pm (Daily)
Lower Cave: 8:30 am (Tuesdays, Thursdays, Saturdays, and Sundays)
Slaughter Canyon Cave: 8:30 am (Mondays, Wednesdays, and Fridays)


December 22–24
King's Palace: 10 am, 11:30 am and 1:30 pm (Daily)
Left Hand Tunnel: 1 pm (Daily)
Lower Cave: 8:30 am (Tuesdays, Thursdays, Saturdays, and Sundays)
Slaughter Canyon Cave: 8:30 am (Mondays, Wednesdays, and Fridays)

December 25 (Christmas Day)
Visitor center and cavern closed.

December 26–31
King's Palace: 10 am, 11:30 am and 1:30 pm (Daily)
Left Hand Tunnel: 1 pm (Daily)
Lower Cave: 8:30 am (Tuesdays, Thursdays, Saturdays, and Sundays)
Slaughter Canyon Cave: 8:30 am (Mondays, Wednesdays, and Fridays)


January 1, 2019 (New Year's Day)
Visitor center and cavern closed


January 2–March 1, 2019
King's Palace: 10 am (Daily)
Left Hand Tunnel: 1 pm (Daily)
Lower Cave: 8:30 am (Tuesdays, Thursdays, Saturdays, and Sundays)
Slaughter Canyon Cave: 8:30 am (Fridays)