Natural Entrance Self-Guided Tour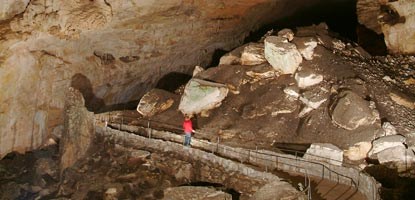 The Natural Entrance route is a self-guided tour available to visitors with plenty of time and in good physical condition. This 1.25-mile tour follows the traditional explorer's route, entering the cavern through the large historic natural entrance. The Natural Entrance route descends more than 750 feet into the earth following steep and narrow trails through a tall and spacious trunk passage called the Main Corridor. The route culminates in the underground rest area, near the elevators and Big Room route starting point. Visitors who plan to take both self-guided tours may enjoy starting with the Natural Entrance route. Highlights along this route include Bat Cave, Devil's Spring, Green Lake Overlook and the Boneyard, a complex maze of highly-dissolved limestone rock reminiscent of Swiss cheese. Visitors should watch for Iceberg Rock, a single 200,000-ton boulder that fell from the cave ceiling thousands of years ago. All visitors who enter Carlsbad Cavern—for any tour—are required to purchase an entrance ticket - good for three days.
Browse photographs of the Natural Entrance trail in our
photo gallery
.
***Anyone under 16 must be accompanied by an adult.***
Last updated: June 18, 2015