King's Palace Tour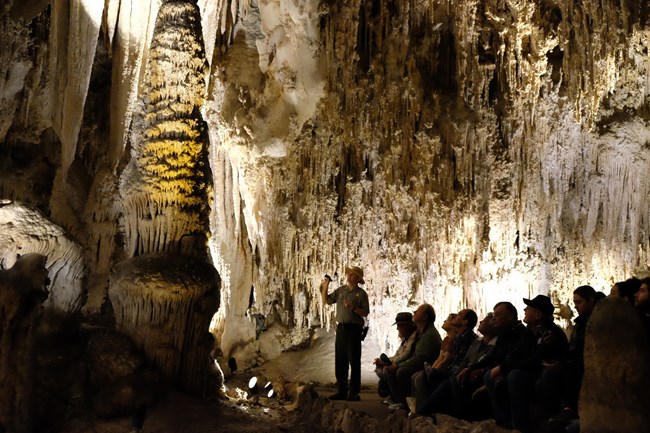 The King's Palace tour, a 1.5-hour ranger-guided tour through four highly decorated chambers will take you into the deepest portion of the cavern open to the public, 830 feet (253 m) beneath the desert surface. Although not as difficult as the Natural Entrance Trail, this one mile (1.6 km) tour does require additional descending, and at the end, walking up a very steep hill. Look forward to viewing a variety of cave formations including helictites, draperies, columns and soda straws. Rangers frequently conduct black-outs during this tour, briefly turning off all artificial lights to reveal the natural darkness of the cave.

Also note, some of the lights may flicker and/or be slow to turn on when coming out of the black-out. They will settle down once they have a few minutes to warm up. Random light changes like these (Flickering, etc.) can also occur during the tour. Consider if this is within your comfort level or tolerance.

Reservations are required for the King's Palace Tour. To make reservations call 877-444-6777 or visit Recreation.gov.

Duration: 1.5 hours

When: See tour schedule for tour times throughout the year.

Where: Tour meets at the Underground Rest Area.

Cost: $8 for adults and $4 for children, Senior and Access Pass holders. Tour participants must also purchase an entrance fee ticket.

Age Limit: Children under 6 years old are not permitted on the King's Palace Tour. Anyone under 16 must be accompanied by an adult.

Maximum Group Size: 12

Notice: All visitors are required to walk on bio-cleaning mats after exiting. This extraordinary measure is due to the potential presence of the fungus which causes White-Nose Syndrome in New Mexico. Click for more information.
Last updated: June 24, 2023