Hall of the White Giant Tour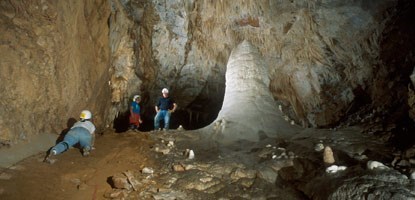 If you don't mind getting dirty, crawling through tight passageways, and climbing slippery flowstone, you might want to try the Hall of the White Giant tour. Ladder climbing, slippery surfaces, and free climbing are all part of this trip. Highlights include tight, narrow passages like Matlock's Pinch, and amazing formations like the White Giant. The lengthy amount of time spent in narrow cave passages requires special attention to group communication and safety. This trip is not recommended for anyone afraid of tight spaces or heights.
Reservations are required for the Hall of the White Giant Tour. To make reservations call 877-444-6777 or visit Recreation.gov.

Cost:
$20 for adults and $10 for children (12+), Senior and Access Pass holders. Tour participants must also purchase an entrance fee ticket.

Duration: 4 hours

When:
Check tour schedule chart for tour times throughout the year.

Where:
Tour departs from the visitor center theater.

Age Limit:
Minimum age is 12 years old. Anyone under the age of 16 must be accompanied by an adult.

Requirements:
Participants must be able to safely negotiate cave passages, containing fragile formations, without harm to the cave, themselves or others.
You will receive a mandatory safety orientation before you venture into the cave.
Hiking boots or hiking shoes with good aggressive tread are required. Hiking boots with ankle support are recommended. No sandals, flip flops, tennis shoes, or similar. You will not be allowed to participate in the tour if you are not wearing proper footwear—no exceptions. Click for more details.
Only very small fanny packs or very small camera bags are permitted on the tour.
The park will provide helmets with lamps, gloves, and knee and elbow pads. Due to the possibility of carrying the lethal fungus that causes White-Nose Syndrome in bats, we do not allow anyone to use their own caving gear.
All visitors are required to decontaminate their footwear before and after tour. Tour leaders will provide the needed supplies. This extraordinary measure is due to the potential presence of the fungus which causes White-Nose Syndrome in New Mexico. Click for more information.
Maximum Group Size: 8

Note: Caving is inherently risky and cave rescues are difficult, dangerous, and take hours to accomplish.
Last updated: December 21, 2022