Cave Tours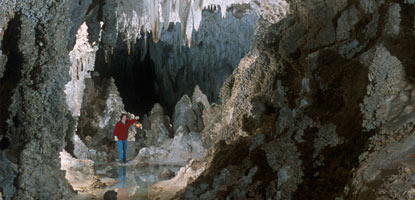 "DAWN OF THE BATS" SPECIAL EVENT - JULY 15! One special morning each year, curious visitors join park rangers at the entrance of Carlsbad Cavern to witness the homecoming of hundreds of thousands of Brazilian free-tailed bats.
Between April and October these bats call Carlsbad Caverns National Park home. Each sunset, hundreds of people witness their mass exodus from the cave in search of food and water, but far fewer people are present as these creatures of the night return at sunrise with their bellies full. Join us Saturday, July 15, 2017 for the
Dawn of the Bats
, a FREE special event celebrating the bats as they arrive home in small groups and dive back into the safety of the cave.
The main event begins at 5:30 a.m. and will continue throughout the day with activities, programs, and much more. No reservations necessary.
A full schedule of events will be posted soon and you may follow Carlsbad Caverns National Park on Facebook and Twitter for the latest information.
On May 23-25 the elevators will be out of service while we conduct maintenance on the motor bearings. During these three days you may still access the cavern by hiking in and out on the steep, 1.25 mile Natural Entrance trail.
We Hope These Answer Your Questions...
The cave climate is cool and averages about 56°F (13°C) year-round. You may want to bring a light jacket or sweater. Comfortable, rubber-soled shoes with good traction are appropriate.
You may carry plain water with you but no food, gum, mints, or tobacco/vapor products of any kind are permitted.
You may take pictures and use flash. Tripods are permitted on self-guided tours only.
Use of drones in the cave is strictly prohibited.
If you'd like to bring a flashlight, that's perfectly fine - you might see things you would not normally see!
Anyone under 16 must be accompanied by an adult 18 years of age or older.
Strollers: Strollers, baby carriages, and similar devices are prohibited in all caves except as necessary for children with mobility issues, they are allowed within the wheelchair-designated portions of the Big Room of Carlsbad Cavern.
Segways: Segways and similar large mobility devices are prohibited in all caves. Cave conditions pose an unacceptable hazard to the safety of the operators of such devices; due to narrow trails, cave ceiling variations, and steep inclines.
Wheelchairs/Walkers: Wheelchairs, walkers and similar devices are prohibited in all caves except within the wheelchair-designated portions of the Big Room of Carlsbad Cavern.
Canes/Walking Aides: The possession and/or use of a recreational walking stick within the cavern is prohibited. Visitors with limited mobility in medical need of walking assitance are permitted to use walking sticks. Visitors with walking sticks must only use them on the paved trail and are required to have a rubber or soft tip.
Please note: If you have been in any cave in the past 10 years with the same shoes/ equipment you are bringing to Carlsbad Caverns, we may ask to clean your items to protect our bats from the spread of a highly contagious and fatal bat fungus. For more information about the disease and park policies, click here.
* * * * * * * * * * * * * * * * * * * * * * * * * * * * * * * * * * * * * * * * * * * * * * * * * * * * * * * * * * * * * * *
There are two ways to see the cave:
1. Self-Guided Tours (at your own pace)
Self-guided tours consists of two choices: The first choice is walking down the Natural Entrance 1.25 mile path, 750 feet into the cave. The path is a steep, asphalt, switchback route that winds down into the Big Room. Please assess your ability before choosing this route.

The second self-guided tour is walking the "Big Room," another 1.25 mile path that takes you through a very large cave chamber. You may access the Big Room by walking down the Natural Entrance -OR- riding the elevator into the cavern.
Tickets are not sold in advance for self-guided tours, you must purchase them at the visitor center upon you arrival except for Thanksgiving, Christmas and New Year's Days when the park is closed. Entrance fee tickets are good for three days but do not include guided or other special tours. More...
2. Ranger-Guided Tours
Reservations are highly recommended for all guided cave tours and require 48 hours advance notice by calling 877.444.6777 or www.recreation.gov. A general entrance fee ticket is required in addition to the guided tour fee for King's Palace, Left Hand Tunnel, Hall of the White Giant, Lower, Spider and Slaughter Canyon Caves. Please pick up your ticket at the visitor center 30 minutes prior to your tour. Note:Children under 4 years are not permitted on any of the guided tours offered at Carlsbad Caverns. Minimum age requirements differ for each tour. More...