Big Room Self-Guided Tour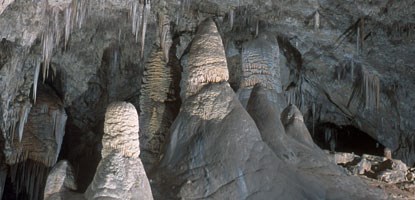 The basic tour through Carlsbad Cavern is the Big Room route, a one-mile, self-guided underground walk around the perimeter of the largest room in the cave, the Big Room. An audio guide notably enhances the tour. Taking approximately 1.5 hours, this circular route passes many large and famous features including Bottomless Pit, Giant Dome, Rock of Ages, and Painted Grotto. Highly decorated and immense, the Big Room should be seen by all park visitors.
Access to the Big Room is provided by elevators located in the visitor center. The relatively level and well-lit trails make this the ideal tour for visitors with limited time or walking difficulties. Approximately two-thirds of the Big Room is accessible to people using wheelchairs with assistance, an access guide [0.6 MB PDF] is available at the visitor center information desk. Baby strollers are not permitted in any part of the cave. Bring a baby backpack if you need to carry your child. You may bring plain drinking water into the cave.
Just how BIG is the Big Room? At about 8.2 acres in size, roughly 6.2 football fields would fit into the Big Room! It is definitely well-named as this is the largest single cave chamber by volume in North America. Other caves might be longer or deeper, but few can live up to the grandeur of the Big Room of Carlsbad Caverns.
To browse photographs of the Big Room, check out our photo gallery!
Big Room Hours
Memorial Day weekend (late May) to Labor Day weekend (early September): 8:30 a.m. to 6:30 p.m. After Labor Day to late May: 8:30 a.m. to 4:30 p.m.
Closed Thanksgiving, Christmas and New Year's Days.
Last updated: May 12, 2017