Three Sources of Light Podcast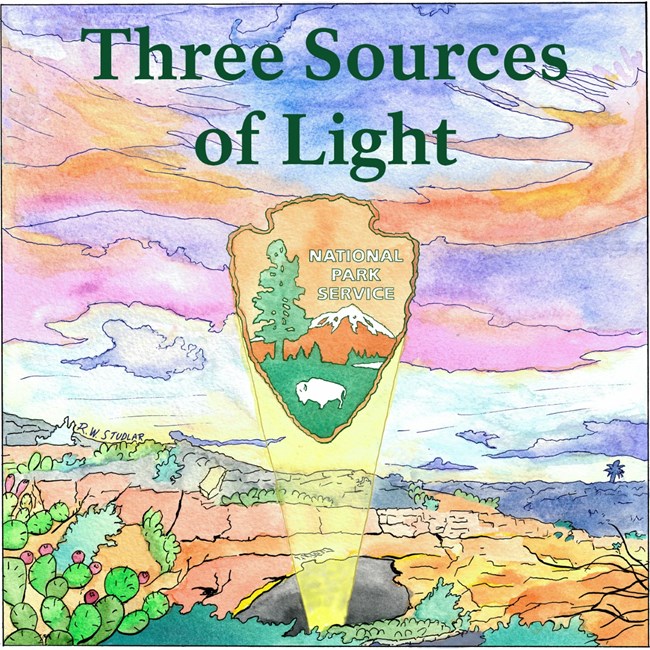 Underneath the rugged mountain surface of the Chihuahuan Desert in New Mexico lies an incomparable realm of gigantic subterranean chambers and fantastic cave formations. Join park rangers for in-depth conversations that illuminate the diverse natural and cultural resources of Carlsbad Caverns National Park. The podcast is produced by the Interpretation Division at Carlsbad Caverns National Park. Interviews include National Park Service employees, volunteers, and partners.

Revisit this page as we release new episodes periodically throughout 2021. Each episode will be available to listen to and/or download here. For the best audio experience, we recommend listening with headphones.

Enjoy!
Three Sources of Light Trailer

Introducing our latest podcast project, Three Sources of Light! The first full length episode will be released on Sunday, February 7th, 2021.

Date created:

2021-01-29 00:00:00.0
International Year of Caves and Karst

International years celebrate and inform the world about important topics! The International Year of Caves and Karst is organized by the International Union of Speleology, a worldwide organization of explorers, scientists, managers, and educators. Carlsbad Caverns National Park has partnered with the Union of Speleology to celebrate what exists beneath your national park. We invite you to learn from this podcast about how caves and karst contribute to the lives of billions of people globally.

Date created:

2021-02-06 00:00:00.0
Carlsbad Cavern Underground National Register Nomination

The National Park Service's National Register of Historic Places is part of a national program to coordinate and support public and private efforts to identify, evaluate, and protect America's historic and archeological resources. At Carlsbad Caverns National Park, these resources exist both above and below the surface. For more information about the National Register of Historic Places please visit https://www.nps.gov/subjects/nationalregister/index.htm.

Date created:

2021-02-13 00:00:00.0
The Feared and Famous Bats of Carlsbad Caverns

The most famous of Carlsbad Caverns National Park's wildlife are bats. They pollinate, eat insects, use echolocation, and fascinate visitors with evening flights out of the cavern. Despite these positive contributions, bats have long been the subject of fearful myths and folklore. Listen to learn about the relationship between Dracula and the Bat Cave of Carlsbad Cavern.

Date created:

2021-03-08 00:00:00.0
Rocky Worlds to Explore

The National Park Service strives to preserve and protect America's great natural and cultural resources unimpaired for future generations. The places in our custody range from the depths of Carlsbad Cavern to the night sky, which stretches over all parks. Carlsbad Cavern and the Moon are both rocky worlds to explore. Both contain colossal and awe-inspiring features. And both are delicate environments where footprints from 50 years ago are still visible today.

Date created:

2021-04-10 00:00:00.0
Last updated: April 25, 2021