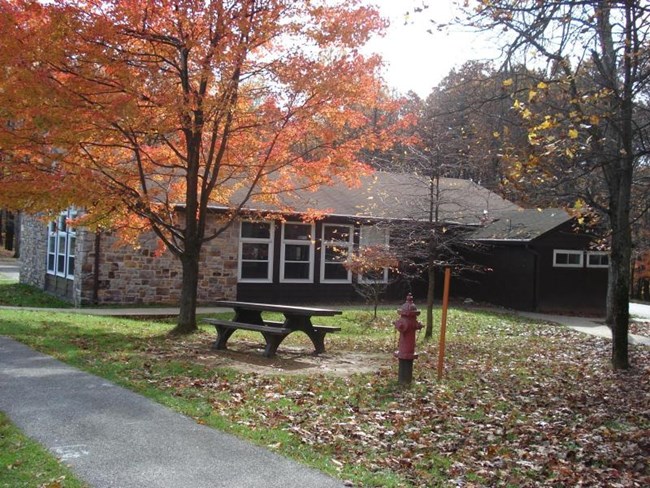 Completed in 1938 by the Works Progress Administration, is listed on the National Register of historic Places as a Historic District. During construction, considerations were made to make the camp accessible for all to enjoy. Camp Greentop was among the first facilities in the United States to be built accessible. During World War II, Camp Greentop was used by the Office of Strategic Services (OSS), predecessor to the Central Intelligence Agency (CIA), to train Special Operations (SO), Secret Intelligence (SI) and Operational Groups (OG). Today, this cabin camp facility can be rented by organized groups of 60 up to 140 persons. The Dining Hall and Recreation Hall are available for conferences year round. Applications for the entire year will be accepted starting on December 1.
Natural Features:
Camp Greentop is surrounded by hardwood forests on the slopes of Catoctin Mountain Park. The region is part of the Blue Ridge Province and offers scenic mountain views and clear streams.
Recreation:
Kids love the camp's swimming pool, open from late May through early September.
Access to the west side trails such as the Catoctin Trail and the accessible Spicebush Trail is a short walk from camp. Trails to enjoy horseback riding are also a short distance from camp. A short drive will put you within a short hike of Wolf Rock. This geological structure offers adventures as opportunity to rock climb. Permit is required to rock climb and can be obtained by through Recreation.gov.