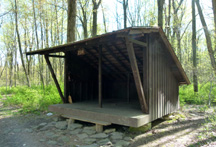 The Adirondack Shelters are 3-sided wood shelters offered as an alternative to backpacking.
Two 3-sided shelters offer back-country solitude to hike-in campers.

Season dates and fees. Permit required. Reservations taken at www.recreation.gov or 877-444-6777. Permits are not issued at the park. The park cannot change reservations made at www.recreation.gov.
There are two shelters which accomodate a maximum of 5 people per shelter. Fire rings and pit toilets are available.
Permittees must be at least 18 years old.
Drinking water must be carried in and trash carried out.
Tents are not permitted except inside the shelter, allowing minimal impact on the area. Pets are prohibited.
The shelter may be occupied for only the length of time designated, not more than 7 consecutive days of 14 days during a calendar year.