Climate Change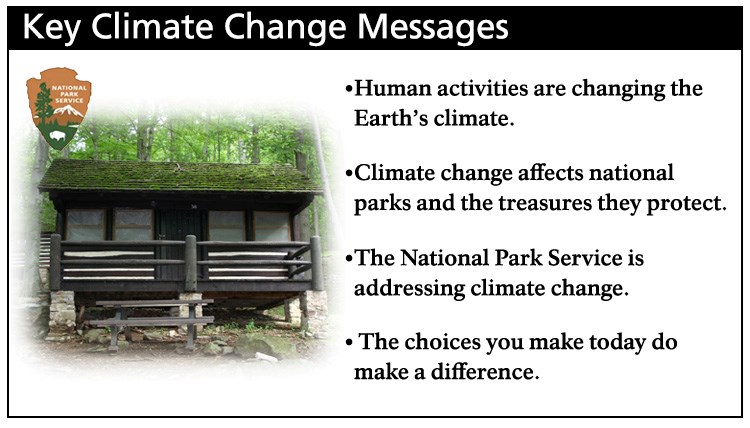 What it means for Catoctin Mountain Park
Since 1936, Catoctin Mountain Park has been a place for recreation and education. Climate scientists are projecting increases in temperatures and extreme storm and flooding events. Such changes threaten Catoctin Mountain Park's natural and cultural resources, as well as the visitor experience.
Warmer temperatures mean:
Increased stream temperatures, which negatively impact brook trout
Increased drought, which could negatively impact cold-water species and amphibians
Changes in timing of plant and tree blooming, which affect pollinator species that depend on them.
Decreased bird diversity
Decreased snowfall
Increase in extreme storms & flooding events means:
Increased erosion
Destruction of brook trout redds (nests)
Damage to historical structures
Higher risk of tree blowdown events
How Does This Affect Your Visit?
National Parks protect the diversity of native species. As we lose species to climate change the dynamics of the natural food web shift.

Accessibility to the park may be more difficult. There will be a greater chance of road and trail closures due to fallen trees or branches.

Fishermen will have fewer opportunities to catch-and-release native brook trout since stream temperatures are expected to rise, making it harder for the fish to survive.

Climate change impacts threaten the structural integrity of our historic cabin camps and require increased preservation efforts.

Hazy skies, caused by the combination of air pollutants and warmer temperatures, can decrease visibility from the vistas. Learn more about the climate change impacts to Catoctin Mountain Park's vistas.

Snowpack is projected to decrease with climate change. Visitors will have little to no opportunity for winter recreation, like cross-country skiing.

As we become more climate conscious, visitors might notice more energy efficient features that make Catoctin more eco-friendly. We now have eco friendly hand dryers and motion-detecting lights in the visitor center. On one of your upcoming visits you may even notice our rangers driving our fleet of hybrid & electric vehicles.
Visitor Center Electric Vehicle Charging Stations Are Active And FREE To Use

To help reduce the carbon footprint and curb CO2 emissions in the park, visitors are welcome to use the two electric vehicle charging stations that are located in the Visitor Center parking lot. These two charging stations, available at no cost to the visitor, are just two of an eventual five that will be acessible for public use in Catoctin Mountian Park.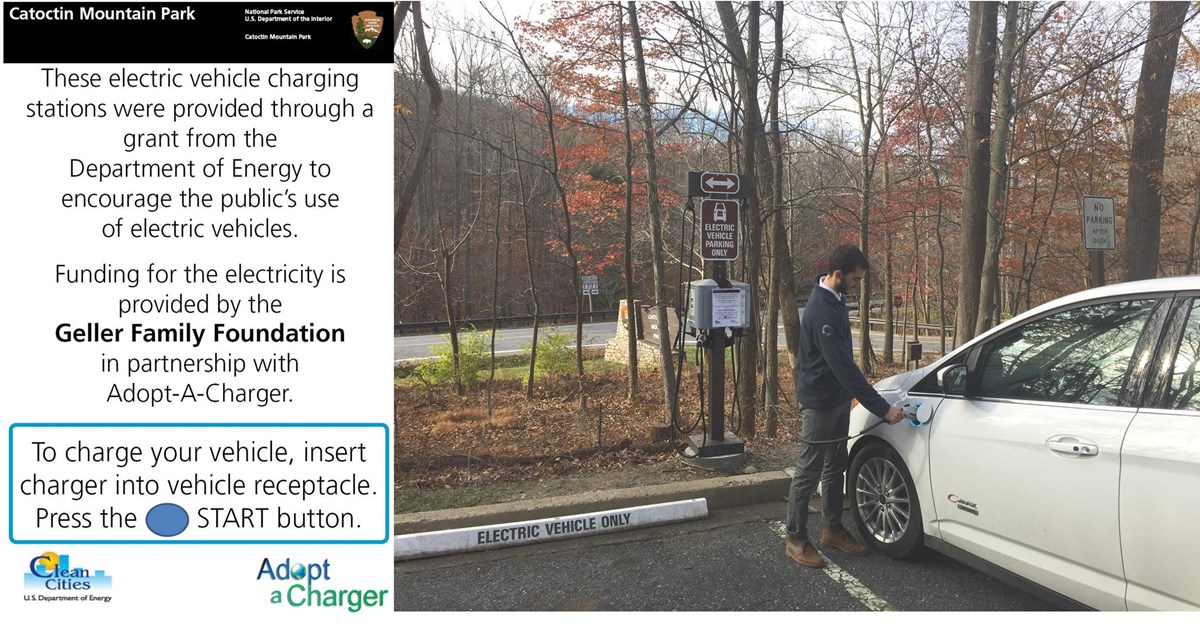 Want to know more about climate change and Catoctin?
Learn more about how climate change affects natural and cultural resources, and what we can do to protect our park here and at home by exploring our other park pages below.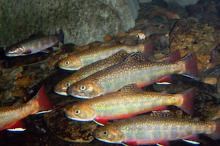 Brook trout are the only native trout species in the park. The Park is monitoring the brookies and their habitat, which may suffer as a result of climate change impacts. Find out more about the
brook trout and climate change.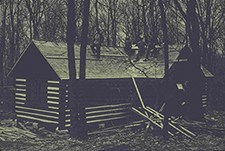 Preserving Historic Structures In the 1930's, cabin camps were built in Catoctin to encourage people to go outdoors and enjoy nature. Visitors have enjoyed these cabins for decades, but climate change threatens these historic structures. As temperatures and humidity rise, and severe storms occur more often, the cabins are degrading. Learn more about how climate change impacts historic structures in the park.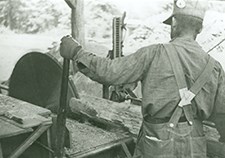 Evolving Energy & Climate Change
Throughout history, the Catoctin forest provided resources that generated multiple forms of energy and drove local industry within the park and surrounding area. Although industry has benefits, such as employing hundreds of people, there can be unintended consequences. One of the most significant consequences we experience today is climate change. The National Park Service is taking action to mitigate such consequences and build a more sustainable future. Learn more about Catoctin's energy story and how it has changed throughout time.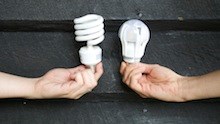 Climate Friendly Parks Program
Catoctin Mountain Park joined the Climate Friendly Parks (CFP) Program in 2013 with the goal of reducing the park's greenhouse gas (GHG) emissions that contribute to a changing climate. Learn more about the
CFP program
, what the park is doing to be climate friendly, and
how you can help
.

Climate Change FAQ
Answers to common climate questions from NPS.

NPS Response to Climate Change
How the Park Service is planning, communicating, and implementing climate friendly practices.

Effects in Other National Parks
Discover how climate change is impacting your favorite parks around the country.

Catoctin Mountain Park Responds to Climate Change
Last updated: December 23, 2017