"Mountain Farms", Correct Answer to Question 1: Rock Walls, Foundations, Farm Lanes and Trash Piles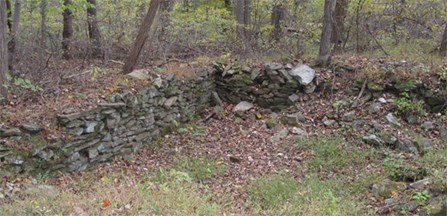 Question 1. What are some signs that there was once farms in this area, as far back as 200 years ago?
Answer:
People farmed this area long before electricity was available for use in houses. They didn't have televisions, satellite, computers and many other conveniences we take for granted today.
As they farmed, they cleared the fields and piled the rocks out of the way and made rock walls. Some used the land for pasture for their sheep or cattle and the walls helped keep the animals in certain areas.
The farmers built houses, barns and other buildings and today, what remains are some of these stone foundations. They made paths and built roads. They dumped their trash in piles that archeologists call "middens". These are the signs we find to show us where and how these farmers lived.
Last updated: April 10, 2015