Where Is It in The Park?
A map is a tool we can use to find where we are, the places we're looking for and information about the places we're interested in.
In this activity, you will use a map of Catoctin Mountain Park to find information about the park and answer the questions below. Click on the map to open a new window and then click on that map to enlarge it.
Question 3. What does the letter "D" show on the map?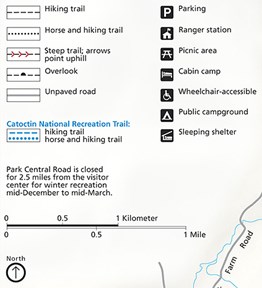 Question 5. A legend on a map is a key to the symbols used on the map. It typically has an arrow designating North and a scale so you can estimate distances. On this map's legend, what does the symbol "P" represent?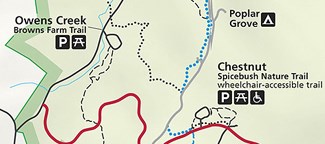 Question 6. Which picnic area has universally accessible facilities such as picnic tables, grills, restrooms and a trail? Universal access refers to the ability of all people to have equal opportunity and access to the facilities.

CLUE:
Look for this symbol on the map legend.
Last updated: April 10, 2015