Lesson Plan
Life of a Spanish Soldier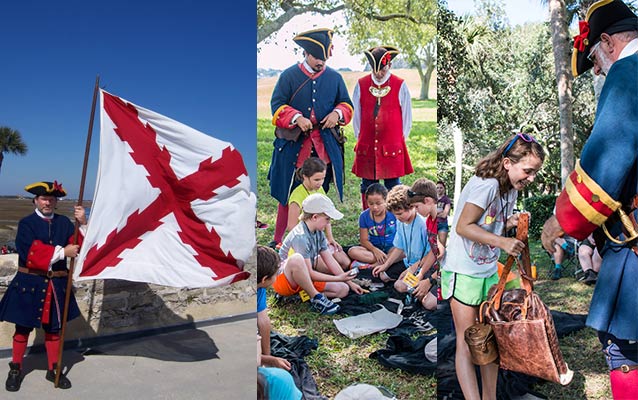 Grade Level:

Fourth Grade

Subject:

American Indian History and Culture, Hispanic or Latino American History and Culture, History

Duration:

Lesson 1 hr. 30 minutes or each activity can be done separately.

Group Size:

Up to 24

Setting:

classroom
Overview
In this lesson, students will learn about what life was like as a Spanish Soldier.
Objective(s)
Students will learn what life was like in Colonial Florida as a Spanish Soldier from the 1720's -1760's. Students will practice using historical documents and video interpretation to summarize and synthesize information.
Background

Read material prior to lesson.
Procedure
Introduction Activity 1 (15minutes):
Watch video 1740's Spanish Costume Interview (3 minutes)
After watching video, students should turn and talk to partner and discuss:      
 Two facts they learned from the video 

 One question that they have about what life was like for a Spanish Soldier
Description of video link: 1740's Spanish Costume Interview with Richard Shortlidge explains what a Spanish private at Ft. Mose circa 1740, now a State Historic Site in St. Augustine, FL may have worn. Mr. Shortlidge was kind enough to talk to St. Augustine film maker Bruce Merwin on a number of topics on June 26, 2010 at the 270th anniversary of The Battle of Bloody Mose in St. Augustine Florida. He explains why a tricorne hat is shaped the way it is, he explains the international color scheme behind hat cockades and talks about clothing items such as the wescote. One of Mr. Shortlidge re-enactment characters, shown inthis video is Privat Ricardo Sanchez Solana. At the time of the interview Mr.Shortlidge was the Treasurer for the St. Augustine Garrison.
Video/Reading Activity 1 (60minutes):
First Reading passage Colonial Florida's Spanish Bluecoats. After reading the passage independently and watching the Life of a Spanish Soldier video divide students into small groups (no larger than 3 students per group). Students are to create a skit to demonstrate what life was like as a Spanish Soldier in the 1700's. Students should include the following intheir skit:      
Where the soldier is living/ what or who thesoldier is protecting?   

Who were your enemies?  

 What trade the soldier is skilled in?  

What weaponry was used as a soldier?·      

 What were the requirements to be a soldier?
 Video Clip: Ranger Chris Leverett shares what life was like as a Spanish Soldier and some of the requirements of becoming a Spanish Soldier. This video was filmed at Fort Matanzas National Monument during apresentation for Hands-On-History Camp.
Bibliography for Documents  
Shepard, David and Suddeth, Frank. Colonial Florida's Spanish Blue Coats.
Activity 2 (15 minutes):
Journal Entry: Students are to create ajournal entry response to the following question.
Think about your interests and things you are good at. What skills do you possess that would make you valuable in Colonial times in the 1700's? Explain your thinking.
Assessment
Students will demonstrate knowledge Soldier Life by answering the skit required questions.Teachers my take an informal assessments from the skit and journal entry response.
Park Connections
To teach students about what life of a soldier was like protecting St. Augustine at the Castillo de San Marcos and Fort Matanzas. This lesson uses a written source and video of ranger explaining the life of a Soldado.
Additional Resources
Reading Informational:
Key Ideas and Details:
RI 1 Quoting accurately from text when explaining what the text says and when drawing inferences from text.
RI 2 Determine main idea from text and how it is supported by key details.
Craft and Structure:
RI 4 Determine the meaning of general academic and domain-specific words and phrases in the text.
RI 5 Compare and contrast overall structure of events, ideas, concepts or information in two or more texts.
RI 7 Draw on information from multiple print of digital sources, demonstrate the ability to locate an answer to a question quickly or
solve a problem efficiently.
Social Studies NGSSS
SS.4.A.1.1 Use primary and secondary sources to identify significant individuals and events throughout Florida history.
SS.4.A.1.2 Synthesize information related to Florida history through print and electronic media.
SS.4.A.3.3 Identify the significance of St. Augustine as the oldest permanent European settlement in the United States.
SS.4.A. 3.4 Explain the purpose of daily life on the mission.
SS.4.A.3.7 Identify nations that controlled Florida (France, Spain, England) before it became a US territory.
SS.5.A.1.1 Use primary and secondary sources to understand history
SS.5.A.3.3 Describe interactions among Native Americans in the struggle for North American. Particularly Africans, English, French,
Dutch and Spanish for control of North America.
SS.5.A.4.1 Identify reasons for colonial settlement.
Vocabulary
Soldado (Spanish word for soldier), haversack, Escopeta, provinces, hardtack, Cockade
Last updated: April 14, 2015