Sandburg Folk Fest
33rd Annual Folk Music Festival
Memorial Day - May 27, 2019
On Memorial Day folk musicians from across the region will converge at Connemara for a day of toe-tapping fun and music. Just as Carl Sandburg's family enjoyed sitting on the porch while he played a guitar and sang for them, you can experience the gentle strums of folk music at Connemara.
2019 Schedule to be Announced Soon!

This event is free and open to the public. Snacks will be available for sale in the bookstore and tours of the Sandburg home will be available throughout the day for a small fee.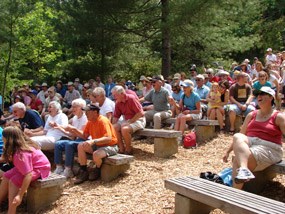 Carl Sandburg began playing the guitar in the early 1900's to enhance his lectures and performed during the era of Pete Seeger and Woody Guthrie and he was the mentor for Burl Ives. He played the guitar, banjo and harmonica and collected a series of folk songs, which he published in his book The American Songbag. The festival began in 1987, and is supported by the National Park Service, Friends of Carl Sandburg at Connemara, Eastern National and a grant from the North Carolina Arts Council; administered by the Arts Council of Henderson County.
Last updated: February 1, 2019