Sandburg Folk Fest
34th Annual Folk Music Festival
Memorial Day - May 25, 2020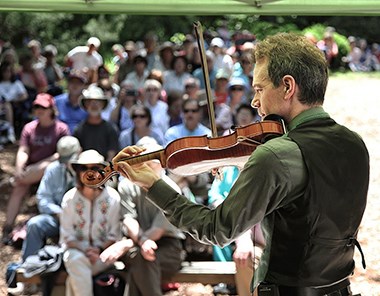 On Memorial Day folk musicians from across the region will share a day of toe-tapping fun and music. Just as Carl Sandburg's family enjoyed sitting on the porch while he played a guitar and sang for them, you can experience the joy of music at Connemara. All performances take place in the amphitheater, unless otherwise specified, and signs will direct festival goers.
2020 Performers include:
Pretty Little Goat Band
Jon Shain
Kat Williams
Amanda Anne Platt and the Honeycutters
This event is free and open to the public. Snacks will be available for sale in the bookstore and tours of the Sandburg home will be available throughout the day for a small fee.

Parking
Keep in mind that our parking lots fill up quickly. We will run a courtesy shuttle from satellite parking lots at the Flat Rock Playhouse (located across the street) and from the Flat Rock Village Offices (110 Village Center Drive) to the park entrance, throughout the day. It is a short walk from the park entrance to the amphitheater. There will be also be a shuttle operating inside the park to take visitors from the entrance to the amphitheater, Sandburg Home and barn area.

The event will be held at the new amphitheater located near the park entrance. Bench seating is available and visitors are also welcome to bring lawn chairs and blankets as seating is expected to fill quickly. Come prepared for warm weather, with sun protection, water and snacks. Dogs are not permitted in the seating areas for the festival.
---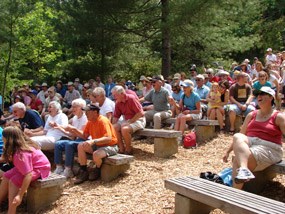 Carl Sandburg began playing the guitar in the early 1900's to enhance his lectures and performed during the era of Pete Seeger and Woody Guthrie and he was the mentor for Burl Ives. He played the guitar, banjo and harmonica and collected a series of folk songs, which he published in his book The American Songbag. The festival began in 1987, to honor Sandburg's efforts to document the history of American music and to demonstrate how modern artists capture the heritage of American music past and present.
Supported by:
National Park Service
Friends of Carl Sandburg at Connemara
America's National Parks
A grant from the
North Carolina Arts Council
; administered by the Arts Council of Henderson County.
Last updated: January 22, 2020