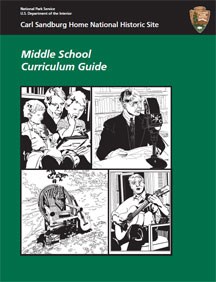 Bring Carl Sandburg and the National Park Service into your classroom with this series of lesson plans. Subjects include American History, Social Studies and English. The plans can be used independently or follow the order and each builds on the one before.
You may contact the park's Education Program Coordinator to request a free copy be mailed to your classroom.
How to Use This Guide
The Guide is divided into seven Units of study. Each Unit has an Introduction which is followed by background information, objectives and lesson procedures.

Use the Additional Resources section of the appendix to find photographs of Carl Sandburg and his family that you may wish to post on a bulletin board during your studies. Photo credits are on file at the Carl Sandburg Home National Historic Site.