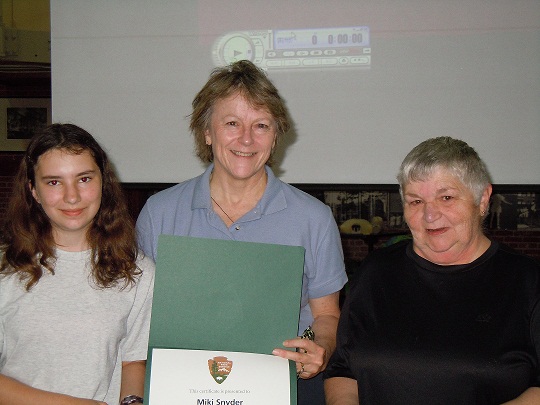 News Release Date:
June 30, 2011
Contact: Nathan Hatfield, 318 356-8441
Every year hundreds of thousands of volunteers contribute millions of hours to nearly 400 national parks. If you were to put a dollar value on their contributions it would be close to $100 million.
These numbers may seem abstract to the average American; that's why it's important to individually recognize the contributions of our volunteers.
Cane River Creole National Historical Park has seen a considerable amount of volunteer activity in the past few weeks. For most of June, a group of archaeologists from the University of Houston have been living and working at the park's Magnolia Plantation Complex. Led by Dr. Ken Brown, the archaeologists have been digging near the Slave/Tenant Cabins. They've been working hard to help us uncover more about the daily lives and customs of the people who inhabited those buildings.
Brown's crew will continue to work on this project after returning to Houston, and once they're finished they will have collectively contributed over 5,000 volunteer hours. Their efforts will assist park staff in accurately telling the stories of the people who called Magnolia home.
Cane River Creole NHP would also like to acknowledge the contributions of a new group of volunteers. We've begun hosting weekly volunteer workdays with a group of enthusiastic teenagers sponsored by Goodwill Industries. These young adults are eager to seek valuable work experience. They will assist us with everything from landscaping to building maintenance. This past Saturday they were even able to ride with us in the Natchez Heritage Festival Parade.
We would finally like to acknowledge the volunteer efforts of retired National Park Service employee Miki Snyder. Miki worked with the National Park Service for forty-three years before retiring from Cane River Creole NHP in 2008.
In May, Miki volunteered for two weeks on the Mississippi Gulf Coast oil spill cleanup effort. She received calls regarding injured birds and then dispatched rescue crews to the injured bird's location. In recognition of her services National Park Service Director Jonathan Jarvis awarded Miki a Certificate for Valued Service and Dedication along with two commemorative pins.
Cane River Creole NHP is always in need of new volunteers. If you are interested in volunteering please contact Nathan Hatfield at 318 356-8441.