Park Hosts Grand Opening of Newly Furnished Slave/Tenant Cabin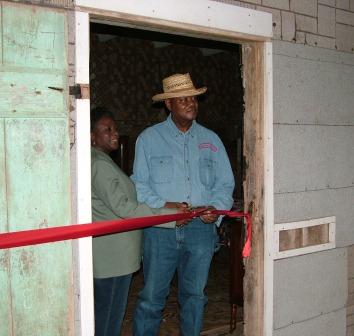 News Release Date:
January 4, 2013
On December 15, Cane River Creole National Historical Park hosted the grand opening of the newly furnished slave/tenant cabin. Former Oakland resident and National Park Volunteer, Elvin Shields led the effort to furnish the cabin as it would have looked during the mid-twentieth century when he and his family lived on the plantation.
Elvin and his wife Betty led the ribbon cutting ceremony in front of a large crowd that included local politicians, dignitaries, and members of Oakland's founding family, the Prud'hommes. According to Ranger Tim Van Cleave, "The cabin has come to life again, thanks to Elvin".