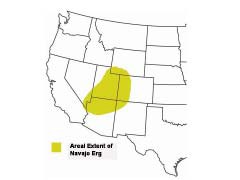 An Unlikely Giant in Capitol Reef National Park
The discovery of giant stromatolite fossils in the Navajo Sandstone is part of a growing body of research challenging some long-held assumptions about the Paleo-environment of the Navajo erg.
The Navajo Sandstone, a prominent and well-exposed rock unit in the Colorado Plateau, was once an enormous, arid sea of blowing sands (called an erg) often compared to the present Sahara Desert. This early Jurassic dune field covered close to half a million square kilometers and reached a thickness in excess of 700 meters making it one of the largest dune fields in the history of Earth.
Although the Navajo erg is generally thought to have been an expansive and lonely desert, new fossils found in Capitol Reef National Park suggest otherwise. During an extended backpacking trip, the senior author stumbled across what he described looked "almost like a giant haystack" or "a giant limestone onion slowly being peeled." This turned out to be the serendipitous discovery of the first known stromatolite in the Navajo Sandstone and possibly the first stromatolite within an erg setting. Eisenberg, an independent geology consultant, spent the next several years researching the occurrence and the discovery was reported in the February, 2003 issue of Geology.
Note: What is a stromatolite?
A stromatolite is produced by cyanobacteria. The distinctive layers are produced as calcium carbonate is precipitated over the growing mat of bacterial filaments. Photosynthesis in the bacteria depletes carbon dioxide in the surrounding water and makes it less acidic thus initiating the precipitation of the calcium carbonate. The minerals, along with grains of sediment precipitating from the water become trapped within the sticky layer of mucilage that surrounds the bacterial colonies. As the colony continues to grow upwards through the sediment a new layer is formed. As this process occurs over and over again, the layers of sediment are created.