2017 Artist-in-Residence Kit Frost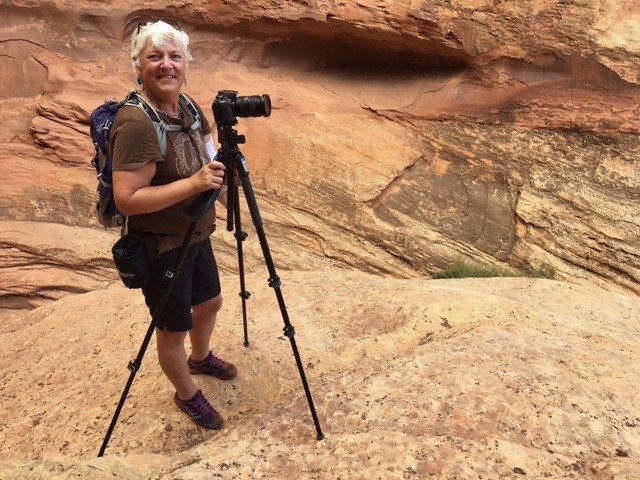 Whether capturing still images, recording time-lapse and video sequences or chasing the light at our National Parks, Kit Frost's photography is emboldened by grand and intimate landscapes. Kit's preferred work method is to explore landscapes over an extended period of time in order to capture the essence of each location throughout the day and into the night. Often found working with traditional film, digital and smartphones, Kit's style is to capture the ever-changing and elusive light in front of her cameras, and her belief is that the best images are not created by the camera, but by the passion and vision of the artist behind the lens.
After retiring from a career of teaching and sharing her passion for art in the classroom, Kit now spends her time in residence at National Parks, Recreation Areas and in the backcountry of her home; the four corners of the Southwest U.S. An avid hiker, and backpacker, Kit carries her gear into some of the most beautiful locations in America. Having spent her early years in a city, she describes as "80,000 people, three square miles," Kit explores and documents the "Unpeopled Landscape". She finds places in our world to record moments of quiet contemplation and peace.
Working in large, medium and 35 mm formats, Kit uses the iPhone as her sketchpad and captures images on film and digital cameras. Influenced by historical and contemporary images and artists, Kit is inspired by painters and photographers alike. She considers Thomas Moran, Ansel Adams, Christopher Burkett, Georgia O'Keeffe and Brett Weston among her most important influences.
During her residency, Kit presented a smartphone photography workshop and an evening program about the history of art in our National Parks.
Transcript
Video of a selection of images created by Kit Frost, 2017 Artist-in-Residence at Capitol Reef National Park. Time-lapse images of clouds moving across the sky, creating shadows on the rock cliffs and orchards below; time-lapse images of the night sky showing planets, stars and the Milky Way with clouds, planes and meteors moving across the sky. Music playing. Soundtrack: The Brave Heart, courtesy of Ed Van Fleet.
Last updated: September 1, 2017