River Journal - Page Nine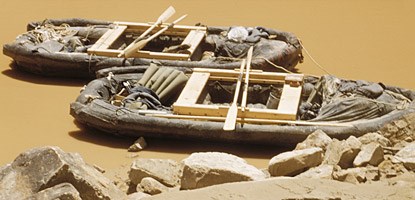 Sunday, July 29,1956—Last night's rain has loaded the river with red silt and clay. It looks like Spring on the Red River in Louisiana. Dark Canyon is exuding a red gumbo.
It is 22(?) miles to Hite, and we have two days yet to meet our pick-up schedule there. So, we plan for a slow start this morning.
The Monitor became unwieldy yesterday and will be abandoned today. We have no adapter to which its inflation valve can be fitted to our pumps.
Hank paints a notation on the canyon wall. Dick looks for fossils in Dark Canyon—also for a spring as our river supply is fouled up.
The wall on the south side of Dark Canyon at its junction with the Colorado River had become a tabloid for canyoneers, and inscriptions of previous expeditions were there written. Hank Dyer painted ours. [This panel is now under about 100 feet of water].
We leave Dark Canyon at 9AM. We run a Class 3 rapid at Mile 182½, a Class 1 at Mile 182¼, and a Class 4 at Mile 181½. The latter is formed by the river being confined to a very narrow gap, and it has some nice big waves. Frank and I pull ashore to get some pictures of Russ and Hank who are lagging in the Dixie Belle. We got some good ones.
On we go. A Class 3 at Mile 181, a Class 1 at Mile 180½, and a Class 1 at Mile 180. The river slows down.
There are lots of springs between Mile 178 and 179, and the canteens are filled.
We ease into Mille Craig Bend and run three Class 1 rapids at Mile 177½, 177¼, and 176½.
We eat lunch in the bend. Looie lights a pile of logs as we shove off.
We run an unexpected Class 4 rapid at Mile 176 and with it the life jackets are removed and we are through Cataract Canyon. A vote was taken at lunchtime, and it was decided to cut the trip short one day by continuing to Hite. I think this will be more rowing than they realize, but I'm anxious to get off of flight rations, and am for the move.
We enter Narrow Canyon and get a nice view of the Henry Mountains.
Frank and I stop so Frank can sample some springs bubbling CO2(?) and H2S between Mile 174 and 173.
A strong up canyon wind catches us at Mile 174 and I am reminded of the 6 hours Dave and I spent bucking a Narrow Canyon head wind on Halloween Day 1952. We pitch out the sea anchor and catch up with the others who had moored at Mile 173.
We stop for a last toddy on the river. The wind abets, and finally we reach the Fremont (Dirty Devil) River and the end of Narrow Canyon.
The river widens considerably and the gradient picks up slightly. Looie leans into the oars and pulls away. Frank and I swap at the oars every 15 minutes until we reach White Canyon. Our last maneuver before docking is an inglorious tow over a bar.
Sam Pyeatt and Alvy Newman have been waiting for us for three days in event of an early arrival or some kind of trouble.
They rustle up a good supper for us and the six flight ration survivors give a good account of themselves.
Monday, July 30,1956—We decide to unload the boats at the Hite Ferry, so work the boats down to the crossing.
A grand gang splits up. Looie and Russ head to Denver via Kigalia and Grand Junction; the rest of us head straight for Grand Junction where Dick will catch a plane to Denver.
All is well at home.
Another wonderful adventure ends and all is over except for the memories, which though already fading will never fail completely.
The End!
Last updated: February 24, 2015