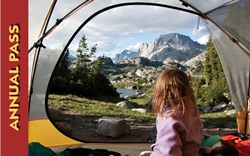 The National Park Service, U.S. Forest Service, U.S. Fish and Wildlife Service, Bureau of Land Management, and Bureau of Reclamation are proud to offer America the Beautiful National Parks and Federal Recreational Lands Passes.
Each pass covers entrance fees* at national parks and national wildlife refuges as well as standard amenity fees** at national forests and grasslands, and at lands managed by the Bureau of Land Management and Bureau of Reclamation. The following passes are offered:
Annual Pass ($80)
Annual Pass for U.S. Military (free)
Senior Pass ($10, lifetime)
Access Pass (free, lifetime)
Volunteer Pass (free, annual)
* Please note: There are no entrance fees for Cape Lookout National Seashore. The ferry companies are privately owned and operated; therefore, ferry fees are not part of this program.
** Tickets to climb the Cape Lookout Lighthouse are expanded amenity fees, which are not covered by the America the Beautiful passes. We do offer discounted ticket prices for those who qualify for Senior and Access passes as well as children 12 and younger. Learn more on the Lighthouse Climbing page.