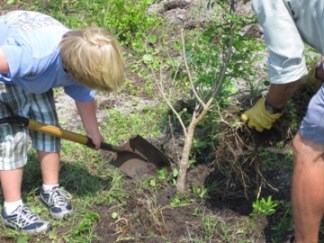 Are you a scout or troop leader looking for a way to protect and preserve our National Parks while you visit? The Scout Ranger program might be just what you're looking for!
Scouts who participate in educational or park approved volunteer programs or service projects at Cape Lookout and/or other national parks can become Resource Stewardship Scout Rangers.
More information on the Scout Ranger programs can be found by following these links to the Girl Scout Ranger Website or to the Boy Scout Ranger Website.
There are two levels to the Scout Ranger program: the Scout Ranger Certificate and the Scout Ranger Patch. Which level you earn depends on how many hours you complete.

Once you have completed the required number of hours, report your work to a ranger or volunteer at the Harkers Island Visitor Center. You can do this by explaining what park approved projects you completed and what you learned about the park or you can show them your completed Scout Ranger Activity Tracking Sheet (pdf, 587 Kb). This sheet is optional, but is an easy way to keep track of your completed activities and hours.