Be A Junior Ranger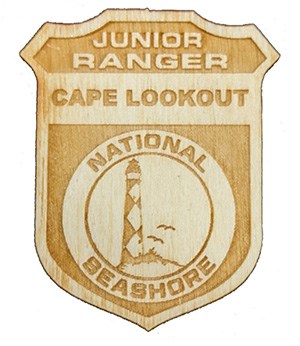 You can be a Junior Ranger at Cape Lookout National Seashore! Ask for a free Junior Ranger booklet at one of the park's Visitor Centers or Cabin Camp Offices. the Harkers Island Visitor Center , the Light Station Visitor Center, Beaufort Visitor Information Center or at a Cabin Camp office
If you are 5 to 7 years old, complete at least four (4) activities. If you are 8 or older, complete at least eight (8) activities.
Then bring your booklet back to a Visitor Center or Cabin Office. You will receive an official Cape Lookout Junior Ranger badge and certificate!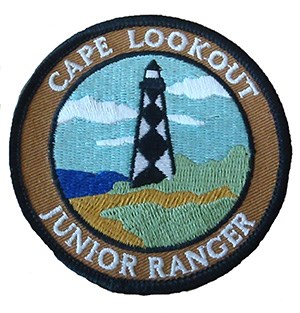 Junior Ranger Patch
During the summer, you can also earn a Junior Ranger patch! To earn your patch:
Complete the Junior Ranger booklet. (If you have already earned your Junior Ranger badge from Cape Lookout, bring it with you and skip this step.)
Attend two (2) scheduled programs presented by a Park Ranger/Guide or a VIP and write down two new things you learned on the the Program Check Sheet (pdf, 189 Kb). The park film Ribbon of Sand shown at the Harkers Island Visitor Center and at the Keepers' Quarters Museum can be counted as one program.
No scheduled programs? Here are some alternative activities to earning the patch.
Visit an exhibit in a Visitor Center or museum (Keepers' Quarters or Portsmouth) and write down an interesting fact they learned from the exhibit.
Read a wayside exhibit sign found along the nature trails on Harkers Island, the boardwalk in the lighthouse area, the lanes of Portsmouth Village or Cape Lookout Village as well as in Jane Eury Park across from the Beaufort Information Center. Write down something new they learned from the wayside exhibit.
Turn in your completed booklet and program check sheet at a Visitor Center or Cabin Camp Office to receive your patch.
More Junior Ranger Programs
Scout Rangers

Are you a scout or troop leader looking for a way to protect and preserve our National Parks while you visit?

Web Ranger

Download your Cape Lookout Web Ranger booklet and start your adventure today!
Last updated: August 26, 2021