Media For Loan
Ribbon of Sand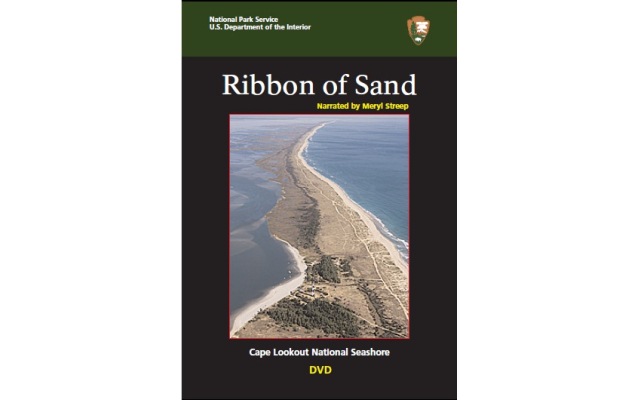 The famed Outer Banks of North Carolina are a slim and moving line of sand in the open Atlantic. Many travelers think they know them--but south of Ocracoke Inlet there rises a luminous bar of sand almost sixty miles in extent, with no roads, no bridges, no hotels: the wild beaches of Cape Lookout National Seashore, one of the few remaining natural barrier island systems in the world.
This beautifully photographed film features an exploration of the entire coastal ecosystem, from the vast coastal plain to the shallow estuaries, from the shifting sands of the barrier islands to the underwater edge of the continental shelf.
People of the Outer Banks have lived in an intimate relationship with the islands and the sea for centuries. Evidence of their lives and work, and knowledge of the power of the sea, reminds us of their strength, and the transitory nature and fragility of life on the edge of the sea.
Academy Award winning actress Meryl Streep narrates quotes from natural history writings about the seashore's coastal ecosystem, primarily drawn from the work of environmental pioneer Rachel Carson. "Rachel Carson asked us to regard the natural world with a sense of wonder," said Streep. "Her writings about the edge of the sea are an inspiration. I hope audiences are similarly inspired by Ribbon of Sand. Preserving the integrity of the environment directly affects each one of us."
DVD. 26 minutes. Closed Captioned.
Borrowing Instructions
 Please contact the Education Coordinator at (252) 728-2250 ext. 3010 for information on borrowing this film.
Details
Subject:

Anthropology, Aquatic Studies, Biology: Animals, Biology: Plants, Community, Conservation, Earth Science, Ecology, Environmental Law, Geography, Geology, Government, Historic Preservation, Hydrology, Landscapes, Marine Biology, Maritime History, Oceanography, Oceans, Recreation / Leisure / Tourism, Recreation Ecology, Wilderness, Wildlife Management

Type:

Video

type:

Media For Loan