Lesson Plan
Cape Lookout Lighthouse: Academic Fee Wavier Materials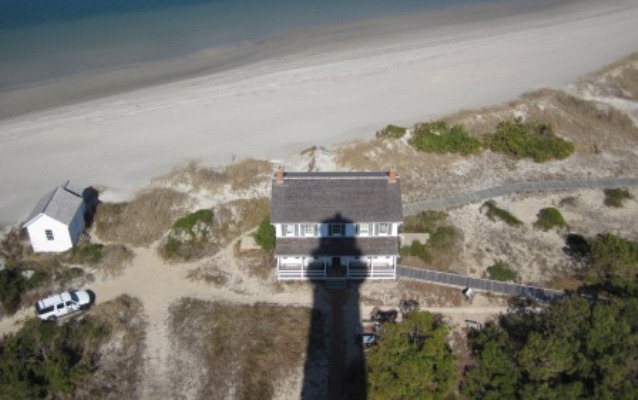 Grade Level:

Fourth Grade

Subject:

Architecture (Building Styles and Methods), Colonial History, Engineering, Family Life, Geography, Government, Military and Wartime History, Recreation / Leisure / Tourism, Science and Technology, World War II

Duration:

60 to 90 minutes on-site

Group Size:

Up to 36 (6-12 breakout groups)

Setting:

outdoors

National/State Standards:

4.H.1.3, 4.H.2.1, 4.G.1.1, 4.G.1.3, 4.G.1.4, Ex. 4.G.1.3, Ex. 4.G.1.4, and EX.4.G.1.5
Lanuage Arts
L--4a, 4c; RL--1, 2, 3, 4, 5; RFS--3a, 4b;RIT--4, 10; W--2b, 2d, 4, 6, 7, 8, 9; S/L--4
4.OA.2, 4.MD.2, and 4.G.1
Overview
Through hands on activities and a fieldtrip to the national seashore, students will discover the history of the Cape Lookout lighthouse and of the people who dedicated their lives to protecting sailors from the dangers of the Lookout Shoals.
Objective(s)
This program is designed to engage students in learning North Carolina coastal area history through hands-on activities. Some activities require reading and writing skills,while others involve physical activity.
These materials can be used by fourth grade classes to meet the Educational Purpose and Relevance of Park Resource requirements for an Academic Fee Waiver. Additional information and requirements can be found on the Academic Fee Waiver webpage. An Academic Fee Waiver provides free access to the Cape Lookout Lighthouse. It does not cover ferry transportation or any other costs.
Procedure
Pre Site Visit
Lighthouse History
What is a Lighthouse?
-- Activity #1 "Label a Lighthouse"
Which one is which?
-- Activity #2 "Draw Your Own Lighthouse"
-- Activity #3 "Make a Flash Pattern" Why a Lighthouse at Cape Lookout?
-- Activity #4 "North Carolina's Outer Banks" Vocabulary 
On-Site Visit
Exploration of Cape Lookout
-- Activity #1 "Cape Lookout Scavenger Hunt"
Following in Their Steps
-- Activity #2 "Climb the Lighthouse" 
Post-Site Visit
Lighthouse Poetry
-- Activity #1 "Acrostic Poem"
Lighthouse Model
-- Activity #2 "Build a Lighthouse"
Lighthouse Vocabulary
-- Activity #3 "Word Search"
Vocabulary
Beacon, Conical, Cupola, Daymark, Entrance, Fixed Light, Flash Pattern, Fresnel Lens (fray-NAL), Foundation, Gallery, Graveyard of the Atlantic, Keepers' Quarters, Lantern Room, Light Characteristic, Lighthouse Board, Lighthouse Keeper, Lightning Rod, Navigate, Prism, Refract, Revolving Light, Service room, Shoals, Spiral Staircase, Watch room, Windows