Pony Patrol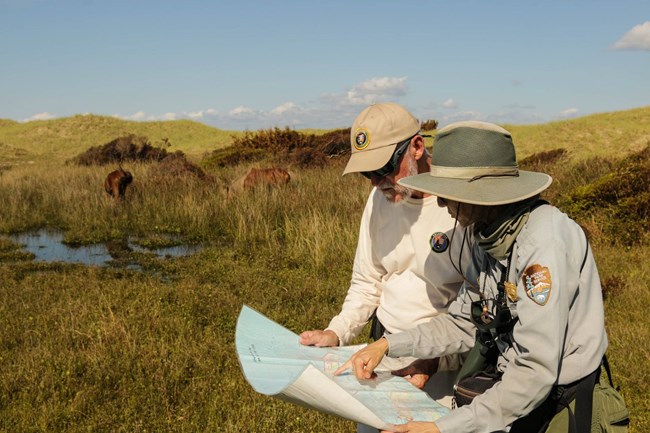 "How can we volunteer to help the horses?" is a common question and fortunately a new volunteer opportunity -- the Pony Patrol -- is starting in 2020 through a partnership of Cape Lookout National Seashore, the Rachel Carson Reserve and the Foundation for Shackleford Horses. The Pony Patrol will act as ambassadors for the wild horses by helping the public enjoy the horses safely and in appropriate ways.
Pony Patrol volunteers will walk the islands talking with visitors about how best to experience the beauty and natural behavior of the horses as well as answering basic questions about the horses and their natural barrier island homes.
Interested applicants must be physically able to walk the beach in a dynamic setting, consisting of sandy terrain, extreme sun, heat, humidity, wind, and buggy environments. Pony Patrol volunteers will be expected to work four-hour shifts at least four times a month. Opportunities are available for both Shackleford Banks in Cape Lookout National Seashore and the islands within the Rachel Carson Reserve.
The application period runs from December 1, 2019 through January 10, 2020.
Applications are available online
and selected candidates will be contacted for an interview in mid-January.
Last updated: November 27, 2019