Map Crosses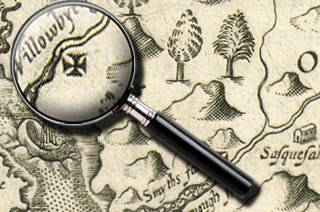 In the key for his famous map published in 1612, John Smith writes:
"The signification of these markers, To the crosses hath been discovered. What [is] beyond is by relation."
In A Map of Virginia, also published in 1612, Smith writes: "...in which map observes this: that as far as you see the little crosses on rivers, mouontains, or other places, have been discovered; the rest was had by information of the savages, and are set down according to their instructions."
Smith is referring to the peppering of Maltese crosses a the heads of several Bay tributaries shown on his famous 1612 map of Virginia. There are 27 of them. As Smith explains, they represent the limits of his personal exploration of the Chesapeake region. The information shown beyond the crosses, he obtained second hand from American Indian guides and informants.
All but three of the crosses were placed by parties that included Smith, sometimes traveling by foot or canoe to locations they could not reach with the shallop. The three exceptions are places where Smith never went. Two of those crosses - at Chawons and Mangoags - apparently mark the boundary between Old and New Virginia, (the colony of Raleigh and the Jamestown colony of the London Company). The cross below Virginia Beach apparently represents how far Smith could see down the coast from aboard ship at the start of the first voyage of discovery - a visual point on the horizon.
S
mith Expert Identifies Crosses
Smith scholar Edward Wright Haile describes the approximate locations of the remaining 24 crosses in his book
John Smith in the Chesapeake
, published by RoundHouse, Champlain VA in 2008. Excerpts from Appendix I of the book follow and are used with permission.
Fifteen represent limits reached in the Bay voyages. At each of these points either a brass cross was attached to a tree trunk or a cross shape was carved into the bark.
The remaining nine crosses divide further into a group of six marking limits of Smith's travels before his Bay voyages and, as far as we know, prior to his policy of setting crosses. This is the case of four along the capture route. Three others may have been both mapped and set to mark the limit of trips made after the Bay voyages, such as the one at Colonial Heights.
On August 8, 1608 [Smith] writes, "In all those places and the furthest we came up the rivers we cut in trees so many crosses as we would, and in many places made holes in trees, wherein we writ notes, and in some places, crosses of brass to signify to any [that] Englishmen had been there." On August 22, 1608, at the falls of the Rappahannock, he speaks of "setting up crosses and graving our names in the trees."
The sites suggested by the Smith map, in this case Belmont and Fall Hill, give a nice vista down th river valley. Several inland crosses are mapped on hilltops, so it is safe to assume that all were set as high and as prominently as the terrain would allow. This a ten foot bank on the Elizabeth River is a likely candidate. The Susquehanna right bank was preferred over the left because it is higher. Some locations make sense because they are at either the toe (Susquehanna) or the head (Great Falls) of river rapids. The four capture route crosses appear to be mapped at places where streams were forded.
Smith's crosses are not to be confused with two large wooden Christian crosses erected by [Chrisopher] Newport on Cape Henry and in the James River on Mayo's Island.
Haile's Detective Work
In listing the approximate locations of the 24 crosses on modern USGS maps, Haile notes:
None of Smith's carved trees or brass crosses has ever been found, either in position or as a relic. My primary guide has been Smith's own map, coordinating it with a modern survey as closely as possible. Big-scale topographic maps helped. The journal came next in weight. A statement of mileage, a suggestion of terrain, or just a hint that the barge was left by the shore for a trek overland had me searching accordingly, sometimes for several days at a time. One thinks of Great Falls in late June and Fredericksburg on August 23. Pergaps the explorers had some elevation in view, such as Iron Hill on August 5.....
Cross Locations
I went to where Smith stood four centuries earlier, imagined an undeveloped landscape and picked the best place to put up a sign that would essentially say "Property of England." I visited nearly all 24 locations. The result is that these are "best guesses" as to the modern locations.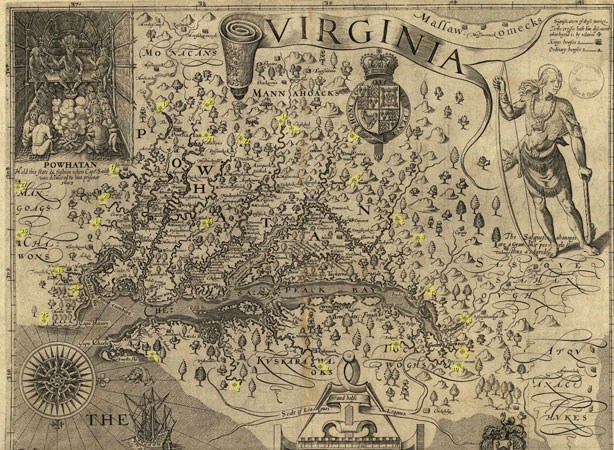 June 3, 1608 - Oyster [Cheriton]
June 5, 1608 - Pocomoke River [Pocomoke City]
June 10, 1608 - Kuskarawaok River [Nanticoke right bank, opposite Broad Creek, Sharptown]
June 13, 1608 - Blands Content overlooking Patapsco River [Relay]
June 25, 1608 - Great Falls [Falls Church]
July 3, 1608 - Burtons Mount [Joplin]
July 5, 1608 - Aquia Creek [Stafford]
July 30, 1608 - Smith Falls [Aberdeen]
July 31, 1608 - At the fork of North East and Little North East creeks [North East]
August 5, 1608 - Peregryns Mount, Iron Hill [Newark West]
August 7, 1608 - Sassafras River [Millington]
August 8, 1608 - Bush River on Bush River Point [Edgewood]
August 22, 1608 - Falmouth [Fredericksburg]
August 22, 1608 - Fall Hill overlooking site of former Embry Dam [Fredericksburg]
September 4, 1608 - Elizabeth River right bank of Southern Branch [Norfolk South]
Mid-April, 1608 - Nansemond River, Brock Point [Chuckatuck]
December, 1608 - Appomattox River [Petersburg]
Spring 1609 - Grays Creek in the fork of Dark Swamp [Surry]
May 23, 1607 - Richmond
November, 1607 - Upper Chippokes [Savedge]
December 15, 1607 -

Washatiask on the Pamunkey River [Manquin]

December 16, 1607 - Mattaponi River [Aylett]

December 16, 1607 - Maskunt on the Pamunkey River [Studley, Manquin]

December 24, 1607 - Piankatank River [Dunnsville]
Crosses Shown But Not Visited by Captain Smith
June 3, 1608 - Virginia Beach South [North Bay, seen from barge]
no date - Chawons [Mintonsville]
no date - Mangoags (estimate 10-20 miles west of Chawons)
Did You Know?
Smith used a variation of the Maltese cross to symbolize the extent of his explorations. On the ground he claimed territory for England by nailing a brass cross or carving the symbol on a tree. No one knows for sure why Smith chose the Maltese cross. The design is associated with a courageous band of crusaders known as the Knights of St. John who fought for possession of the Hold Land in the 11th century. Today the Maltese cross continues to represent courage and protection. You'll find it in the insignia of firefighters and in other badges of honor.
Last updated: April 20, 2018