Second Voyage
Captain John Smith's Second Chesapeake Voyage: July 24 to September 7, 1608
Within a few days of returning from his first voyage, Captain Smith set out on a second wave of exploration. This time, he brought 12 men, making the shallop less crowded and more comfortable.
On this trip, Smith reached the head of the Chesapeake Bay and determined there was no route to the Pacific. The voyage covered a lot of territory and brought him in contact with many different Indian tribes but was marked by sickness, conflict, and a crewman's death. Read more about Smith's second voyage here.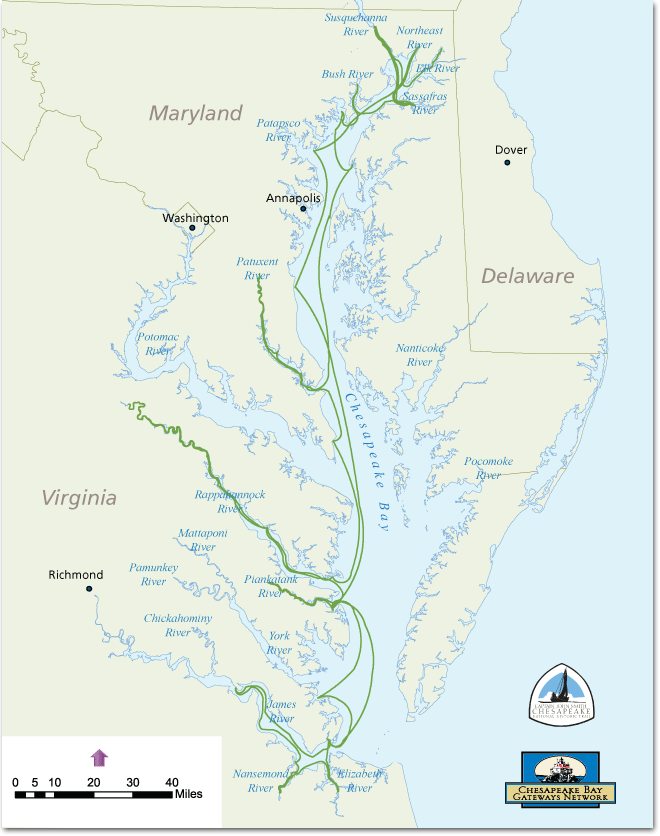 Second Chesapeake Voyage Highlights
July 25-26 - Smith and his men fire aerial flares to impress the Indians.
July 27-30 - They head north to the head of the Bay and the Susquehanna River.
July 31 - So many of the crew were sick that when they encounter the Massawomeck's canoes, they perch hats on their guns to make their small party look bigger
Aug 1-7 - They make contact with Indian tribes speaking different languages, including the "giant-like" Sasquesahannock who become their trade partners.
Aug 8-16 - Heading south, they explore the Pawtuxunt (Patuxent) River and report friendly encounters with the people there.
Aug 17-20 - Exploring the Rappahannock River, the crew is attacked by the Rappahannock Indians who wound Anas Todkill. After initial conflict, peace is made.
Aug 21 - Death of Richard Fetherstone, most likely of malaria.
Aug 22 - At the head of the Rappahannock River, the crew successfully fight off attack by the Mannahoac.
Aug 18-30 - On their return, Smith and his men are honored by the Rappahannock for battling the Mannahoac.
Aug 31-Sep 7 - After brief explorations of the Payankatank (Piakatank) River "so high as it was navigable," and the Elizabeth and Nansemond Rivers, Captain Smith returns to Jamestown.
Second 1608 Voyage Crew:
Captain: John Smith
Doctor: Anthony Bagnall
Gentlemen (familiar with firearms): James Bourne, Richard Fetherstone, Thomas Momford, Nathaniel Powell, Michael Sicklemore
Carpenter (boat repair): Edward Pising
Fish Merchant (knew edible fish): Richard Keale
Fisherman/Sailor: Joans Profit
Laborer/Solder: James Watkins
Soldier: Anas Todkill
Tailor (clothes and sails): William Ward
Last updated: January 11, 2018