First Voyage
First Chesapeake Voyage: June 2 to July 21, 1608
Captain John Smith led 14 men on his first voyage. In search of a route to the Pacific, the band headed north along today's Eastern Shore then moved to the Western Shore to probe the rivers now called Patapsco, Potomac, and Rappahannock.
Nearly every day, the crew encountered native people. The meetings were mostly friendly and the Indians gave food and help to Captain Smith and his crew. However, some tribes were hostile to the strangers.
The expedition also had to cope with storms. On one occasion, Smith wrote that "the winde and waters so much increased with thunder, lighting, and raine, that our mast and sayle brew overbord and such mighty waves overracked us in that small barge that with great labour we kept her from sinking by freeing out the water."
The voyage nearly ended in tragedy when a stingray seriously wounded Smith. However, he survived and reported eating the ray for supper. His sense of humor expressed itself again when he transformed his vessel to look like a Spanish ship to frighten his fellow colonists. Read more about Smith's first voyage up the Chesapeake Bay.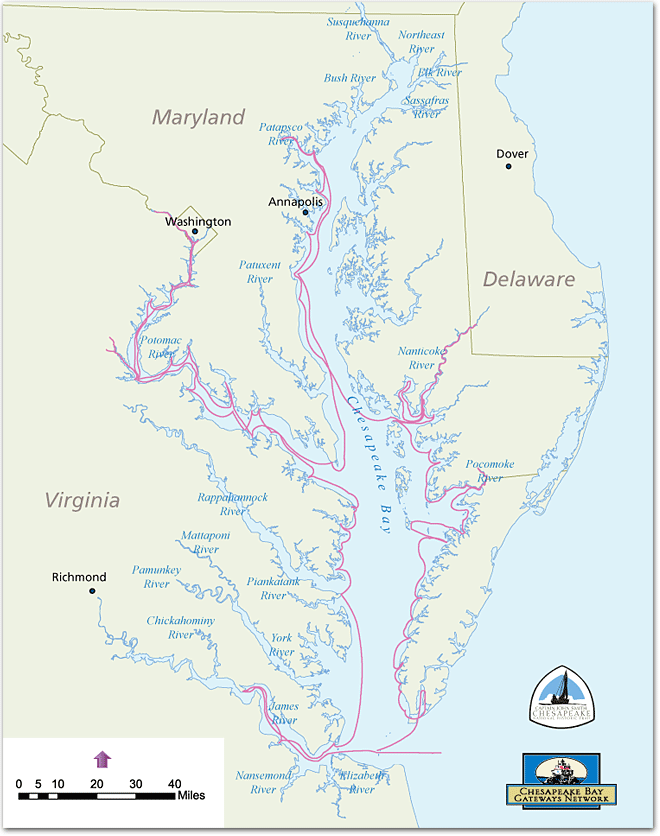 First Chesapeake Voyage Highlights
June 3 - Encounter with Accowmack Indians: meeting with a "

king

" who is the "

comeliest proper civil savage we encountered

."

June 4 - Thunderstorm - "with great danger we escaped the unmerciful raging of that ovean-like water."
June 5 - Water shortage - "We would have refused two barricoes of gold for one of that puddle water."
June 6-8 - Loss of mast and sail in storm.
June 8-10 - Trade with hundreds of Massawomeck.
June 11 - Sighting of "wolves, bears, deer, and other wild beasts."
June 12-16 - Explorations of Western Shore - bad conditions and crew complaints.
June 17 - Ambush at Nomini Creek - gunfire intrigues Indians, precipitating a peaceful resolution.
June 18-July 16 - Exploration of Patawomeck (Potomac River) with stops at many native towns.
July 17 - Smith wounded by stingray near the mouth of the Rappahannock River.
July 18-21 Returns to Jamestown.
First 1608 Voyage Crew:

Captain: John Smith
Doctor: Walter Russell
Gentlemen (familiar with firearms): James Bourne, William Cantrill, Richard Fetherstone, Thomas Momford, Ralph Morton, Michael Sicklemore
Carpenter (boat repair): Robert Small
Blacksmith: James Read
Fish Merchant (knew edible fish): Richard Keale
Fisherman/Sailor: Jonas Profit
Laborer/Soldier: James Watkins
Soldier: Anas Todkill
Tailor (clothes and canvas): John Powell
Last updated: January 11, 2018