Captain John Smith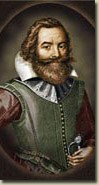 (1580-1631)
Smith was an English explorer who played a pivotal role in the exploration and settlement of America. His leadership at Jamestown, his contacts with Chesapeake Indians and his Chesapeake Bay voyages - documented in through his maps and journals - helped ensure the success of early English colonization efforts.
Captain Smith's incredible adventures have gone down in history. However, his real achievements have sometimes been obscured by legend and lore, due largely to his own storytelling. Scholars continue to debate aspects of Captain John Smith's life story. Even so, there is no doubt that he was an outstanding leader, explorer, diplomat, and communicator who made a lasting mark on America.
Life Before Jamestown
John Smith was born to farming family in Willoughby, England, either late in 1579 or early 1580. When he was 16, he left home to become a soldier. He fought in Europe and the Middle East eventually earning the rank of Captain, a title which he carried the rest of his life. In Turkey, he was captured and sold into slavery, but eventually he escaped. After further adventures in Europe and Africa, he returned to England in 1605.
Smith and Virginia
At age 27 Captain John Smith was one of the colonists who embarked on the first Virginia Company expedition to the Chesapeake region. During the voyage, he was accused of mutiny and imprisoned on board the ship. His fortunes changed on arrival when letters of instruction from the Virginia Company named Smith to the governing council.
After assuming a leadership position at Jamestown, Smith undertook two landmark voyages exploring the Chesapeake Bay. He is credited with saving the colony through his leadership, organizational ability, fighting skills, and talent for building alliances and trading relationships with the Chesapeake Indians. However, his relationships with other leaders of the Jamestown governing council were often antagonistic.
Smith's journals and maps were eventually published while he was still in Virginia, which described lush resources and his encounters with the native people of the Chesapeake. His writings attracted great attention to the Chesapeake region. Later publications by Smith recounted the same experiences, sometimes with new details. Often in his newer publications, a theme arose with Smith being captured only to be saved by a woman of high status who had fallen in love with him.
Discrepancies between the different versions - especially concerning his capture by Powhatan and the role of Pocahontas - have raised many questions.
Smith and New England
After injuries from an accident resulted in an early departure to England in 1609 and Smith never returned to Virginia. However, he did explore the coasts of modern-day Maine and Massachusetts in 1614 and 1615. He published maps and descriptions of New England (which he named), and actively promoted settlement there.
The adventures and misadventures that characterized Smith's life followed him to New England. In 1615, he was captured and held hostage for three months by French Pirates. Two years later his hopes of establishing a colony in New England were dashed when mishaps at sea all but destroyed the initial supply ships. Unable to raise more funds for the project, Smith spent the rest of his life writing accounts of his exploits.
Smith died in 1631 at the age of 51 but his words and deeds live on in his writings.
Learn more about Captain John Smith from his journaled accounts.
Last updated: May 14, 2019