Curricula
We Have a Story to Tell:  Native Peoples of the Chesapeake Region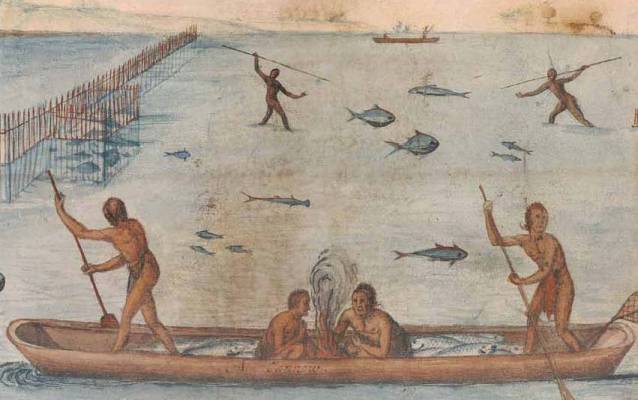 From the Classroom Lessons of the National Museum of the American Indian, Smithsonian Institution
The Native peoples of the Chesapeake Bay region were among the first in the Western Hemisphere to encounter European explorers and colonists. Their stories, however, have usually been told by others, and usually only when their history helps to shed light on the birth and early development of the English colonies and the United States. Their perspectives have been overlooked and ignored in exhibitions, the media, educational materials, and most histories of the region. This guide offers contemporary Native perspectives about the historical experiences of the Native Americans of the Chesapeake, in particular, the Powhatan, Nanticoke, and Piscataway peoples.
The history of the Native Americans of the Chesapeake region is a remarkable story of resilience and survival.[Goddard, 1978; Feest, 1978; Rountree, 1989 and 1990;Potter, 1993; Tayac, 1999] For thousands of years, until the late sixteenth century, they were sustained by and lived in balance with a verdant, pristine, and generous environment. The region was heavily populated and vibrant with human activity. The people spoke languages that were part of the immense Algonquian language family that reached from the Southeast up the Northeast coast into what is now Canada, across to the Great Lakes and even to some parts of the Great Plains and what is now California. These languages were not mutually intelligible but they bore enough similarities to enable peoples of the Chesapeake region to communicate with one another.
We Have a Story to Tell: The Native Peoples of the Chesapeake Region is intended for use with students in grades 9-12. Ways of life before contact with Europeans are briefly introduced. This is followed by coverage of the period of colonization (1607) through the present. The guide focuses especially on how Powhatan, Nanticoke, and Piscataway peoples responded to the upheavals that began with the colonial period. It includes activities that fix attention on critical contemporary issues that affect Native communities in the region. Educators are encouraged to use these materials as an introduction to ongoing studies of the Native peoples of the Chesapeake and other regions-past, present, and future. The interactions between the colonists and the Natives of the Chesapeake established a pattern of relations that would persist for centuries. This history offers students important new perspectives about the events that shaped the experiences of indigenous peoples throughout the continent, as well as the development of the United States.
 This lesson primarily covers the period from the early 1600s to the present. Students explore how colonial settlement and the establishment of the United States affected the Native Americans of the Chesapeake region, especially the Powhatan, Nanticoke, and Piscataway peoples. Students will learn about the forces that resulted in the eradication of some tribes and how others survived. Students will also participate in small group projects to understand issues of critical importance to Chesapeake Native communities today. The lesson includes five sections: • Warm up: lesson overview and preliminary discussion of the Native peoples of the Chesapeake region • Map activity • Independent reading and class discussion • Small group project on critical contemporary issues, including group reports • Summary class discussions
Additional Resources
Details
Subject:

American Indian History and Culture, Colonial History, Education, History, Westward Expansion

National/State Standards:

National Curriculum Standards for Social Studies (High School)—
I. Culture.
II. Time, Continuity, and Change.
IX. Global connections


type:

Curricula