Washington D.C. Emancipation Day
Date & Time

04/16/2018 2:00 PM to 8:00 PM

Fee Information

Free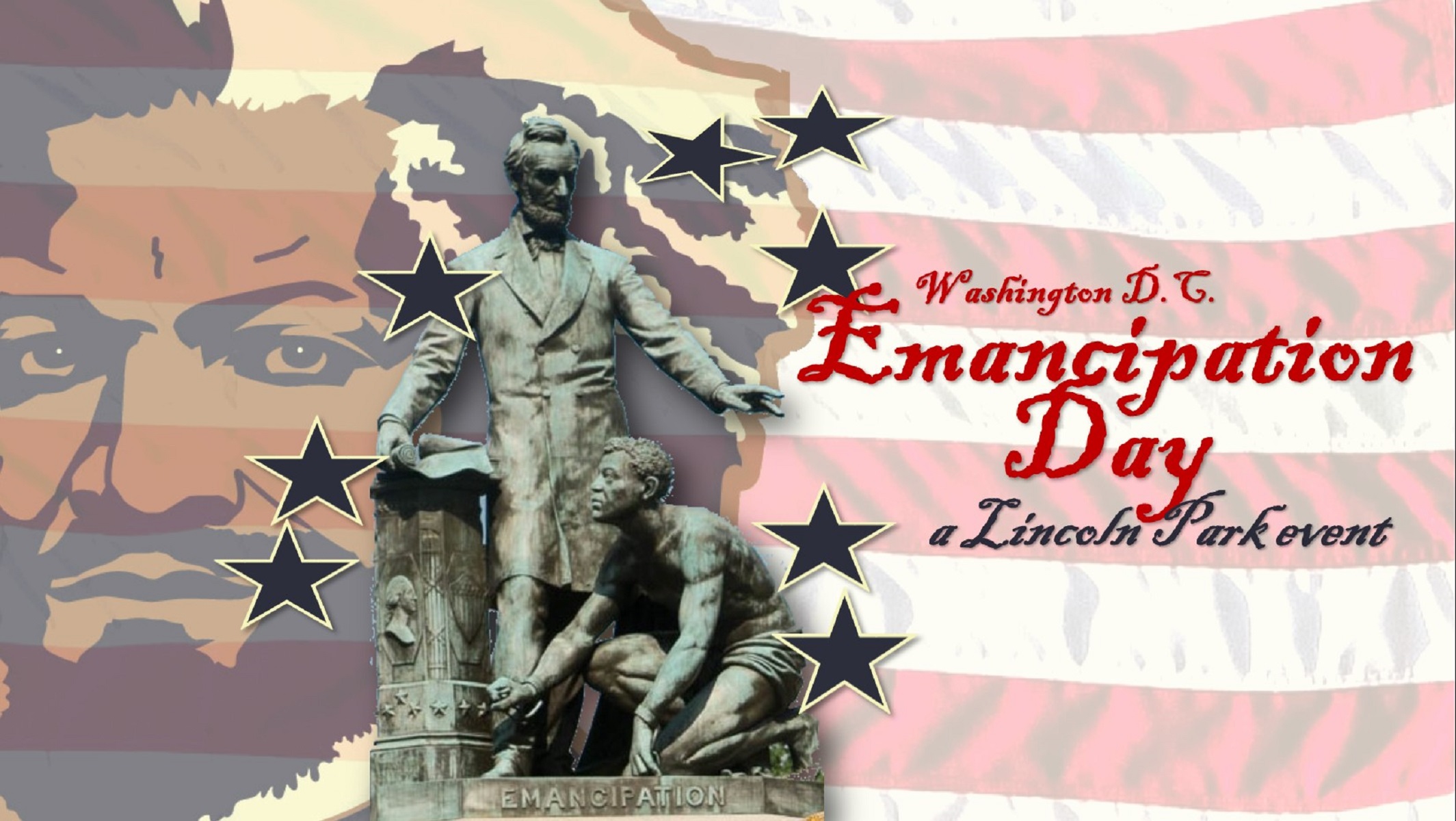 April 16, 1876 Emancipation Day was celebrated at Lincoln Park including a keynote address by Frederick Douglass, a crowd of 20,000 people, and the unveiling and dedication ceremony for the "Emancipation Statue" that stands in Lincoln Park today.
On April 16, 2018, as a part of the Frederick Douglass Bicentennial celebration, the National Park Services invites you to join us as we re-create this dedication ceremony. The afternoon program will include family-friendly activities, concerts, an open discussion about the "Emancipation Statue" and its meaning, and reenactments featuring actors portraying Frederick Douglass, John Mercer Langston, and Ulysses Grant.
SCHEDULE OF EVENTS:
2 - 5 p.m. Through a Child's Eyes—Kids get to travel back in time with exciting programs designed just for them. Enjoy a puppet show, read stories about freedom and emancipation with a ranger, practice Civil War infantry drills, make your own monument (clay molding), and learn how to identify trees in Lincoln Park that have stood the test of time.

3:30 p.m. "The Lion's Roar"—Frederick Douglass known as the "Lion of Anacostia," delivered an unforgettable speech in Lincoln Park in 1876. See an actor dressed as Douglass perform an excerpt of that speech and bring it to life.

4:45 p.m. Rhythms Back Then—Enjoy live music from Federal City Brass Band as they perform music that would have been played on Emancipation Day 142 years ago. Dressed in Civil War uniforms, band members will use original instruments from the 1860s.

5:30 p.m. "Conflict of Commemoration"—Participate in a discussion about the significance of Emancipation Day and the meaning of the Emancipation statue.

6:30 p.m. A Moment in Time—Witness a grand reenactment of the moment in time Frederick Douglass stunned crowds at the 1876 dedication of the Emancipation statue. Enjoy music from a Civil War era band, see an actor portray "Frederick Douglass" and deliver his historic keynote address, listen to a live reading of the Emancipation Proclamation and see "President Grant" pull the lanyard to unveil the statue!

7:30 p.m. "National Treasure"—Join a ranger on a hunt for the hidden symbolism and meanings of the Emancipation statue.
What is D.C. Emancipation Day?
The D.C. Compensated Emancipation Act of 1862 ended slavery in Washington, DC, freed 3,100 individuals, reimbursed those who had legally owned them and offered the newly freed women and men money to emigrate. It is this legislation, and the courage and struggle of those who fought to make it a reality, that we commemorate every April 16, DC Emancipation Day.
---
Location:

Lincoln Park



Time:

2:00 PM to 8:00 PM



Fee Information:

Free