Civil War to Civil Rights Trading Cards
Kids, collect stories about the American Civil War and the Civil Rights Movement—learning about these monumental events in our nation's history along the way! The National Park Service is offering more than 500 digital/online trading cards to mark the 150th anniversary of the Civil War.
You can see what digital cards are available from Cape Hatteras National Seashore below, or view all the National Park Service Civil War to Civil Rights Trading Cards online and discover stories from nearly 90 national parks in 31 states and the District of Columbia. You might just be surprised at what you learn!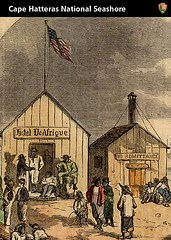 Hotel D'Afrique
1861-1865 Safe Haven
Union forces constructed this first safe haven in North Carolina after the capture of Hatteras Inlet. Arriving by ship, hundreds of former slaves received food and housing in exchange for unloading supply vessels. They gave information aiding in the Union success at Roanoke Island and were among the first African Americans to fire against Confederate forces.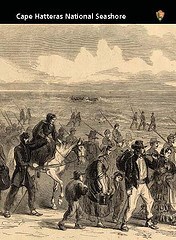 The Chicamacomico "Races"
Who is Chasing Whom?
Battle on the beach looked like "races" in October 1861, when Confederates counterattacked Union troops at Chicamacomico, chasing them south down the beach through hot sun and sand. When fleeing Union soldiers—and accompanying villagers—met Union reinforcements at the Cape Hatteras Lighthouse, the tables turned, and Confederates were then chased back up the burning beach.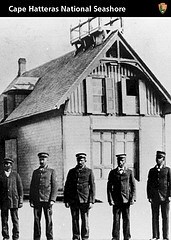 Pea Island Lifesaving Station
1880-1947
When African American Richard Etheridge was assigned Keeper of this station, racial standards required that his crew be the same, giving this station the country's first African American lifesaving crew. Vigilance to mission and rigorous training made this crew one of the nation's finest and credited as an early driver of diversity in the U.S. Coast Guard.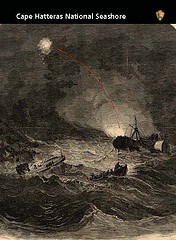 The Loss of the USS Monitor
A Victim of the Atlantic
The first all-metal warship commissioned by the US Navy during the Civil War, Monitor's tough armor might have hastened its demise. Adept on rivers, Monitor's heavy turret rendered it unstable on rough seas. While being towed to Charleston, South Carolina in December 1862, it swamped off Cape Hatteras. Discovered in 1973, the shipwreck site became the Monitor National Marine Sanctuary.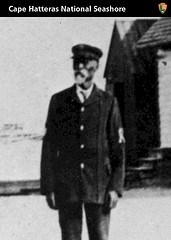 Richard Etheridge
From Slave to Saver of Lives
Born a slave, Etheridge distinguished himself not only as a Union army sergeant (36th USCT), but also later, in 1880, as the first African-American to command a US Lifesaving Station. His Pea Island Station crew was known as one of the best in the country, and Etheridge as one of the Service's most courageous lifesavers.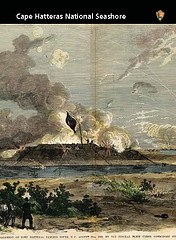 The Taking of Hatteras Inlet
First Step to Take the North Carolina Coast
Capturing Hatteras Inlet was an early priority for Union forces. On August 27 - 28, 1861, after heavy fighting, Union forces captured Forts Clark and Hatteras—taking control of the inlet and much of North Carolina's coast. Informed of this first victory in the middle of the night, Lincoln danced a jig in his nightshirt.
Last updated: December 12, 2018