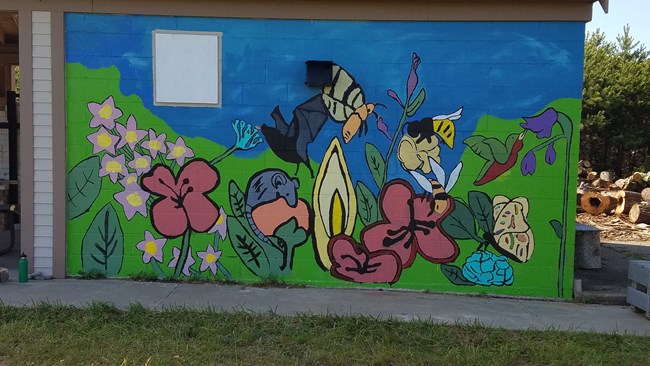 Highlands Fest 2017 centered around the theme, "Bee Dynamic," which was inspired by a growing need to learn about and be proactive towards saving pollinator species. All pollinators are important and essential to Cape Cod, and community members and partners gathered to encourage a few simple actions to help ensure their survival, such as planting native seeds to attract pollinators.
The "Pollination" mural, painted that day, features several pollinator species such as; moths, bats, mice, bees, butterflies, and hummingbirds. The inclusion of a variety of pollinators and pollinating flowers was purposefully done to stress the importance of all pollinator species in our Cape Cod environment.
The mural was designed by AmeriCorps Cape Cod member Victoria Babcock; this art compliments the nearby wayside exhibit and pollinator gardens that have been established with native plants; bees and monarch caterpillars are found amongst bee balm, butterfly weed, and milkweed.