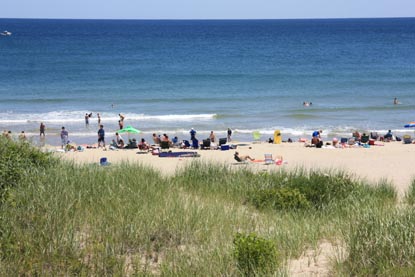 The ocean is a wonderful place to swim - if you are careful. Swimming in the ocean is not the same as swimming in a pool or lake. Wind, waves, the change of the tide, the slope of the beach, and other factors can cause strong currents to be present in the water even on the calmest days.
Ocean conditions can change from day to day and from hour to hour. Before going in the water, spend a few moments watching the waves. Wave patterns are a good indicator of the presence of currents and where deep water and other "surprises" are located. Know what to expect before you go in the water. Before going in the ocean, read these tips for ocean swimming safety:
Always swim in a lifeguarded area, if possible.
Never swim alone.
Talk to the lifeguards; ask about beach conditions and hazards.
Be aware of the currents and shore break.
Don't fight against the current.
Know your swimming ability, and stay within it.
Excessive drinking and swimming do not mix.
Children should swim only with adult supervision
Underwater sandbars often develop offshore forming a trough of water between the bar and the beach. Rip currents form when the sand bar breaks and the trapped water funnels out to the sea through the break, sometimes sweeping swimmers with it. The most important thing to remember if you're caught in a rip current is: DON'T SWIM AGAINST THE CURRENT! Instead, swim across the current, parallel to the shore, slowly working your way back to the beach at an angle. Above all, remain calm. Signal for help if you need it.
Cape Cod National Seashore Great White Shark Safety
LINKS:
Cape Cod National Seashore Lifeguard Program

Cape Cod National Seashore Junior Lifeguard Program
Cape Cod Times Cape Cast "How to Beat the Rip Currents"