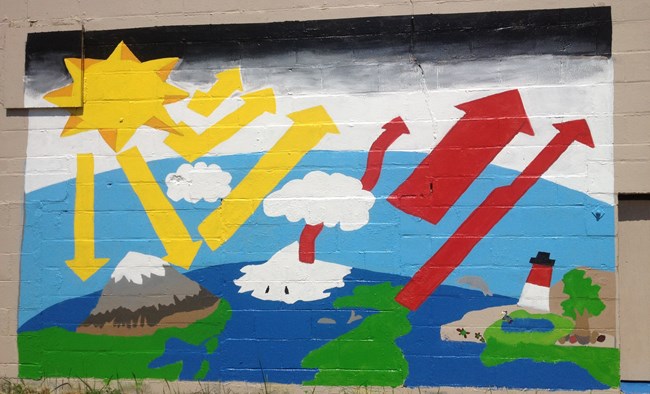 For one year, 2012-2013, the Cape Cod National Seashore hosted the Department of Energy's Atmospheric Radiation Measurement (ARM) Mo-bile Climate Research Facility at the Highlands Center. The goal was to study aerosols—tiny particles in the air such as dust, soot and sea salt—to improve understanding of how aerosols affect Earth's climate.
A component of the research is investigating how aerosols affect Earth's radiation budget,
or the cycle of energy between the sun and Earth.
To commemorate the presence of the ARM facility, Highlands Fest 2013 included the painting of a mural depicting earth's energy cycle, designed by AmeriCorps Cape Cod member Kristen Grace.
The yellow arrows represent short-wave radiation coming from the sun that is absorbed or reflected by clouds, the atmosphere and the earth's surface, and the red arrows represent
long-wave radiation that is emitted by the surface, the atmosphere and clouds.