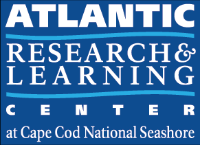 Seventh Annual Science in the Seashore Symposium
September 14, 2017
Cape Cod National Seashore's Atlantic Research and Learning Center will host the seventh annual Science in the Seashore Symposium at the Salt Pond Visitor Center on Thursday, September 14, from 1 to 4:30 PM. This popular program brings together a diverse audience including scientists, educators, resource managers, students, and anyone interested in the technical science of the seashore.
There will be brief and engaging presentations about terns, whip-poor-wills, dragonflies, eelgrass, cranberry bog microbes, blue carbon, horseshoe crabs, seals, and more!
The Atlantic Research and Learning Center is one of nineteen research and learning centers in the National Park Service. Research and learning centers are places where science and education come together to preserve, protect, and encourage understanding of park resources.
Financial assistance for the symposium is provided by Friends of the Cape Cod National Seashore, the national seashore's official fundraising partner. The symposium is free and open to the public.
IF YOU GO: Salt Pond Visitor Center is located at the intersection of Route 6 and Nauset Road in Eastham and can be contacted by calling 508-255-3421.