Characteristics of Salt Marsh Dieback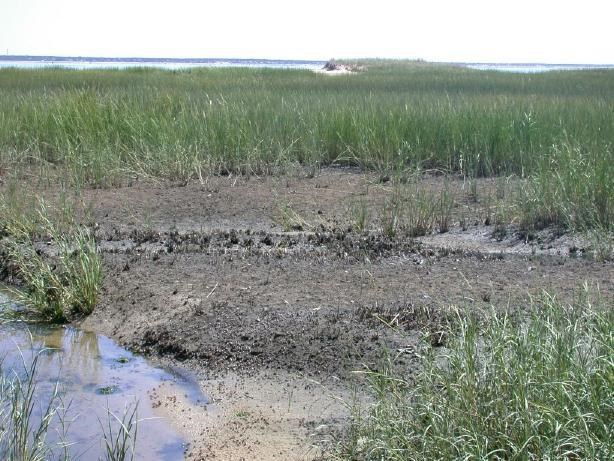 On Cape Cod, we originally referred to the unexplained loss of salt marsh vegetation as "dieback".
In these areas, it is often just dead shoot stubble or root/rhizomes that are left as much of the inorganic sediment has been eroded away.
In other areas, there is no peat left (it has fully decomposed or has been covered up by sediment) and what remains is a relative smooth, bare surface.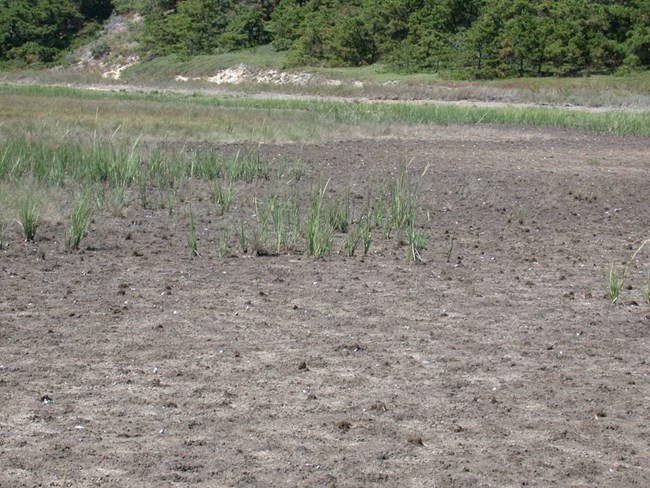 What one sees on the ground can also be easily misinterpreted. For example, the loss of S. patens along the seaward edge of the high marsh followed by patchy recolonization of that area by S. alterniflora makes it look like the latter has been lost.
Close examination of the peat, however, reveals that S. alterniflora is simply in the process of filling in the gaps left behind by the disappearing high marsh.
Thus, the careful reconstruction of history has been critical to interpreting current-day patterns of vegetation loss. In doing this, mainly through the acquisition and analysis of old ground-level and aerial photographs, we have found that our original notions of when things began and how they proceeded were often wrong.

Low marsh dieback (S. alterniflora) occurs at all elevations between mean low and mean high tide. Creekbank zones (mid-elevations) have been particularly hard-hit.
High marsh dieback (mostly S. patens) always occurs along the seaward edge of the high marsh zone - around the mean high tide mark. This correlation suggests a link with hydrology (is sea level rise affecting plant fitness in these areas?)
Last updated: August 11, 2015