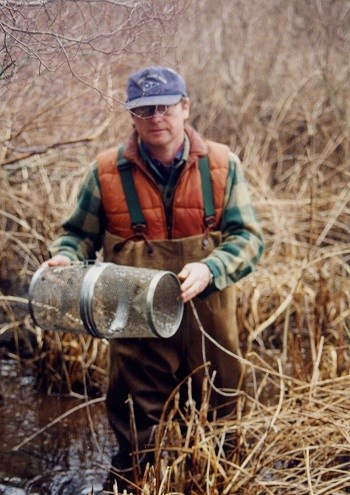 Name: Robert P. Cook
Official Title: Wildlife Ecologist
Phone: 508 487 3262 x 0503
Email: e-mail us
Education:
B.S. Wildlife Biology, SUNY Env. Science and Forestry, 1975
M.S. Wildlife Biology, UMASS, Amherst, 1978
Ph.D. Ecology, Evolution, and Behavior, CUNY, 1996
Research Interests and Lab Responsibilities:
As inventory and monitoring wildlife ecologist my duties are focused on efforts to document the occurrence, distribution, status and trends of wildlife species in the park. This involves compiling and organizing historic data, as well as collecting contemporary data, either directly or through cooperators. I work closely with government and university scientists to identify long term wildlife monitoring needs, and develop and test monitoring protocols to meet those needs. Although standardized sampling is focused on pond-breeding amphibians, I also collect data on reptiles, birds, and mammals of interest and have overseen an inventory of herpetofauna at 13 northeastern National Park Service sites.
Representative Publications:
Click for full CV
Cook, R. P., D. K. Brotherton, B. C. Timm, and J. L. Behler. 2012. Saratoga National Historical Park amphibian and reptile inventory: March-September 2001. Natural Resource Technical Report NPS/NETN/NRTR-2012/562. National Park Service, Fort Collins, Colorado.
Cook, R.P., T. Tupper, P.W.C. Paton, and B. Timm. 2011. Effects of temperature and temporal factors on anuran detection probabilities at Cape Cod National Seashore: Implications for Long-Term Monitoring. Herpetological Conservation and Biology 6(2):25-39.
Cook, R.P. 2008. Potential and limitations of herpetofaunal restoration in an urban landscape. In Urban Herpetology. Mitchell J. C., R.E. Jung, and B. Bartholomew, editors. Herpetological Conservation 3:465-478. Society for the Study of Amphibians and Reptiles. Salt Lake City, UT.
Tupper, T.A. and R.P.Cook. 2008. Habitat variables influencing breeding effort in northern clade Bufo fowleri: Implications for conservation. Applied Herpetology 5:101-119.
Cook, R.P., K.M. Boland, S.J. Kot, J. Borgmeyer, and M. Schult. 2007. Inventory of aquatic turtles at Cape Cod National Seashore with recommendations for long term monitoring. Technical Report NPS/NER/NRTR-2007/091. National Park Service, Boston, MA.
Cook, R. P., K.M. Boland, and T. Dolbeare. 2006. Inventory of small mammals at Cape Cod National Seashore, with recommendations for long term monitoring. Technical Report NPS/NER/NRTR-2006/047. National Park Service, Boston, MA.
Cook, R.P. and K.M Boland. 2005. A comparison of approaches to counting egg masses of spotted salamander (Ambystoma maculatum). Herpetological Review (36):272-274.
Cook, R.P. (2004). Dispersal, home range establishment, survival, and reproduction in translocated eastern box turtle (Terrapene c. carolina). Applied Herpetology 1(3):197-228.
Cook, R.P. 2004. Macrofauna of Laufuti Stream, Tau, American Samoa, and the role of physiography in its zonation. Pacific Science 58(1): 7-21.
Cowie, R.H. and Cook, R.P. 2001. Extinction or survival: the status of partulid tree snails in American Samoa. Biodiversity and Conservation, 10: 143-159.
Rudnicky,J.L., W.M.Patterson, and R.P.Cook. 1997. Experimental use of prescribed fire for managing grassland bird habitat at Floyd Bennett Field, Brooklyn, NY. p. 99-118 in Vickery,P.D. and Dunwiddie,P.W.(eds.). Grasslands of northeastern North America: ecology and conservation of native and agricultural landscapes. Massachusetts Audubon Society, Lincoln, MA 297 p.
Venezia, K. and Cook, R.P. 1991. Flora of Gateway National Recreation Area. National Park Service, Brooklyn, NY 40 p.
Cook, R.P. and Tanacredi, J.T. 1990. Management strategies for increasing habitat and species diversity in an urban national park. p. 171-177 in Berger, J.J. (ed.), Environmental restoration: science and strategies for restoring the Earth. Island Press, Washington, DC. 398 p.
Cook, R.P. 1989. A natural history of the diamondback terrapin. Underwater Naturalist 18(1): 25-31.
Cook, R.P. 1983. Effects of acid precipitation on embryonic mortality of Ambystoma salamanders in the Connecticut Valley of Massachusetts. Biological Conservation 27(1983): 77-88.