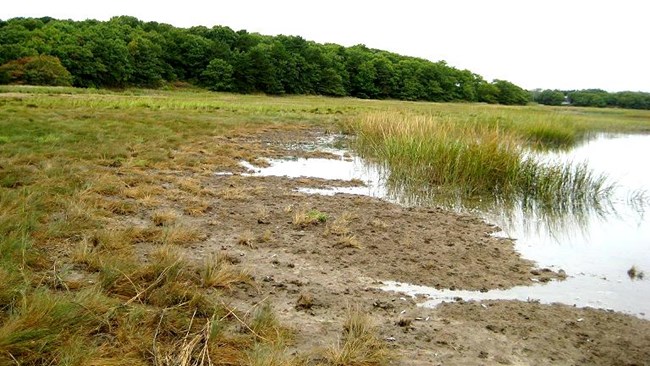 High marsh dieback (primarily Spartina patens, but also Distichlis spicata and Juncus gerardii) always occurs along the seaward-most edge of the high marsh zone (i.e., at the lowest elevations). <click for enlarged image> This is distinctly different than low marsh dieback, which occurs in many places throughout the zone between mean low and mean high tide.
Moreover, standing dead foliage is observed in high marsh species - something that does not happen with Spartina alterniflora.
The fact that high marsh losses only occur along the seaward edge suggests a link with hydrology (duration of flooding). However, the extent of loss also correlates with the presence of high densities of crabs (both Sesarma and fiddler crabs). We have, in fact, witnessed Sesarma crabs feeding on S. patens in addition to S. alterniflora, so high marsh dieback may be linked to herbivory as well.