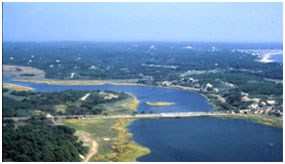 The Cape Cod National Seashore (CCNS) collects data on water quality and quantity in near real time to assess environmental impact and change at representative locations throughout the park. Water level has been a key parameter measured since 2005 for tracking system responses to the projected restoration of tidal exchange. Water level data collected from our sites to date had not included any compensation for changes in barometric pressure during deployments. It was essential to gain the most accurate water level data set that we could to make the best management decisions possible. In May 2009 a workshop was held at the ARC to introduce a new calibration procedure for non-vented instruments, as a first step in achieving this higher level of accuracy.
As a result, a simple procedure was developed to post process the depth data and remove the barometric pressure affects from past, present and future data sets. Our work with restricted systems at Cape Cod National Seashore has allowed us to realize the importance that barometric pressure has on our systems. It is important for others monitoring tidal signals to understand how these pressure differences will affect the signals that they are analyzing at their specific site locations around the planet.
In November 2009, a poster titled Necessity of improving water level time series data accuracy from non-vented instrumentation through post-processing of barometric pressure effects was presented at the Coasts and Estuaries Research Federation Conference in Portland, Oregon and later in February 2010 at the National Park Service's Water Professionals Meeting in Fort Collins, CO to share the work that was accomplished here at Cape Cod National Seashore.
If you would like to receive an electronic copy of the post-processing spreadsheet to use for your own data or if you would like more information or have questions, please feel free to contact: Kelly C Medeiros, Hydrologic Technician, Phone: 508-487-3262 x117 Fax: 508-487-7153 Email: Kelly_Medeiros@nps.gov