CFP Action Plan - Waste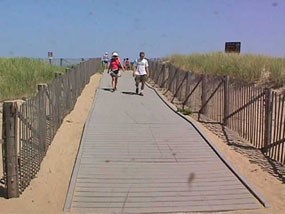 Emission
Reduction
Target:
Reduce park operations'
waste emissions to 10
percent below 2007
levels by 2020.

Completed and Ongoing Actions
Donate or recycle used computers and electronics.
Use almost all green and non-toxic janitorial products.
Discontinued landscape watering and fertilizing at the park.
Installed water bottle filling stations at all six beach and visitor center facility locations.
Implemented a construction waste management plan and job site recycling policy.
Recycled 1500 tons of concrete and asphalt (equaling 99.42% of waste diverted from landfills) when replacing Herring Cove Beach bathhouse.
Planned Actions
Engage staff to reduce, recycle, and manage waste at work.
Continue to increase the recycled content of purchased materials.

Maximize web-based communications to reduce use of paper and printing, including digital record-keeping system.

Continue to establish a comprehensive recycling outreach campaign aimed at park visitors, including increased signage and recycling visibility.

Initiate composting options and more water bottle filling stations at facilities where appropriate.
Last updated: February 3, 2020