CFP Action Plan - Education and Outreach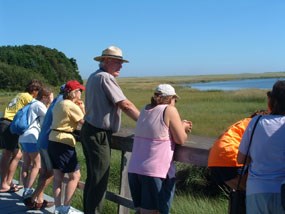 Cape Cod National
Seashore can play an
integral role in
communicating about
climate change to a
vast audience.
Completed and Ongoing Actions
Disseminate climate change science and climate friendly practices information to interpretive staff for incorporation into programs.

Create demonstration projects, exhibits, and outreach materials to convey park sustainability message to visitors.

Created green web film to display on the webpage and be played at the visitors center.

Incorporate sessions on climate change and climate friendly actions into all-employee staff trainings.
Conducted a green facilities workshop for Outer Cape town managers, DPW workers, and CCNS Advisory Commission members in Fall of 2012.
Planned Actions
Continue to create and distribute new and previously produced information on climate change and its effects on national parks and on Cape Cod National Seashore.

Integrate Climate Friendly Parks program with school programs using educational kits, wayside exhibits, and posters.

Encourage internal and external stakeholders to reduce their carbon footprints.

Look for opportunities to host traveling exhibits focusing on the impacts of climate change as well as general awareness about climate change. Focus presentations on climate change priorities and talk about success stories.
Last updated: February 3, 2020